♥
Friday, November 20, 2009
|
|
Halloween 2009 - Day 1!||
(Real late post I know. :p Alright, so lets get started!)
Getting ready for Halloween.. Gotta pack these babies before I leave the house to a 'secret location' to dress up for halloween.
I packed a HELL LOT of stuffs in my bag and it weighed, 7kg! Serious! And I was sooo afraid that I have nothing to wear so just packed gloves necklaces and etc all in! Not to forget, false eyelashes and makeup! 'Excess' makeup and eyeshadows I mean, in case the rest needs some :)
I know, Im a Great Shar-er! Where's sharity elephant? I share lei, so give me my Badge! Lolss
So after a super long journey, all famished, we head over here and played with J's wigs! She has TONNES of them!! Creepy.. Reminds me of Sadako wig that ran across the room in one of the horror movies :/
It's Playtime!!
Now J bring's out the Kimono! Super cute! Letting S try it out hahah
Bunny's just OWNED S!
*Ow.. I give up I give up~ hurhurhur*
Bunny: No can do! *Haiya!*
(Double OWNED!!!!)
Alright, enough of playing around, taking a short break and heading for some yummy dimsum lunch! :D
We ordered like 2plates of everything, had Har Gow, Fried Yam, Chee Cheong Fun, and was pretty full but bunny brought along her stingray with sambal kangkong so she shared it with me!
THIS HAS GOT TO BE THE BEST STINGRAY MEAT ON EARTH! I AM TRIPLE-HOOKED!
*OM NOM NOM NOM*
After sucha super yummy lunch, head back into the room to get started! By then it was pretty late already, about 4pm+? Ooh the lovely white wings J bought yesterday. Lovely isn't it? Maybe next year halloween i'll borrow it hehe!
I was asking them if kimono, wear Nu bra will it be okay or not and they took it and play with it! Bunny sure had a super fun time! Just look what they did! The person who sold them to me will Not be that happy! Orh Hor..~ Just joking! :p
Bunny looks like a big Bug eyed creature 0_0
While they play, J was helping me with the dressup and see if the kimono length is too long for me or not so she could 'pin and alter em up' to my height :)
Don't I look lovely? Okay la, 50% lovely la. Later I put makeup, will be 100% love-lier liaoz! Muahahahah!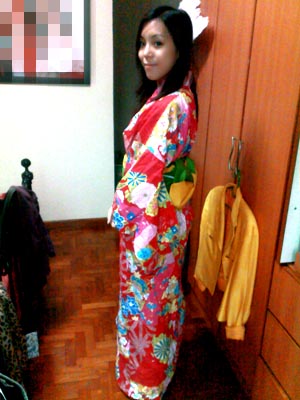 Then dunno why but I suddenly felt like playing with the wigs again hahaha
I know, Im a Jap Rockstar here. *Sticks tongue out*
Did you think I could RESIST playing with the Nu bra too?! NEVER!!!
AHHH~!!!!! My EYES!!! I cant seee!!!!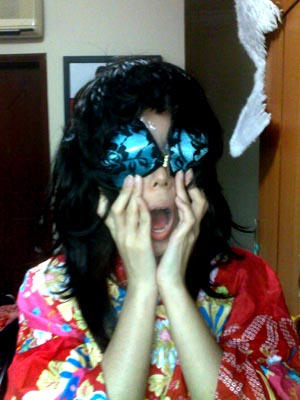 The rest got back to do their makeup and I helped S do her super pale white face :)
Camwhore time for the ladies! While I try to finish up my makeup! oops! :p
This is S C A R Y.
Emo School Girls
Bunny: How do you taste, lil school girl? *om nom nom*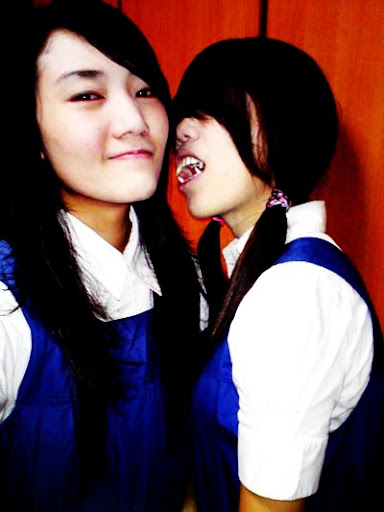 Meet Creepy.
Double Creep-ier. Dead school girls.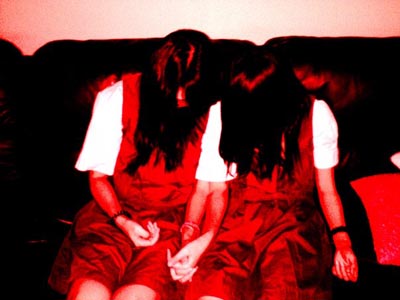 Meet Scary and Creepy.
S: Oi, Im already awake! Quit slapping me already!
Bunny and J: (pose for camera ignoring what S said)
S: Did anybody hear me?!?!?! Hellooo~???
OMFGWTFBBQMEGAEGGMCMUFFIN!
And.. Im done! Look better?? :DDD
Pink eyeliner! Can ya beat that! Uber lovely!!!!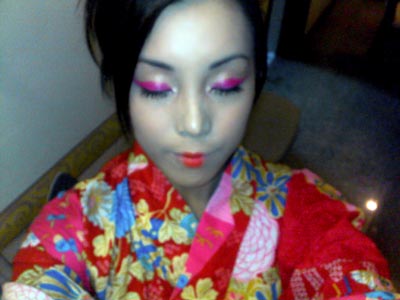 Now, we take halloween, to the streets! Are ya scared already?
Angel trying to take a good shot at the Dead sch girls hahaha
Angel and me :)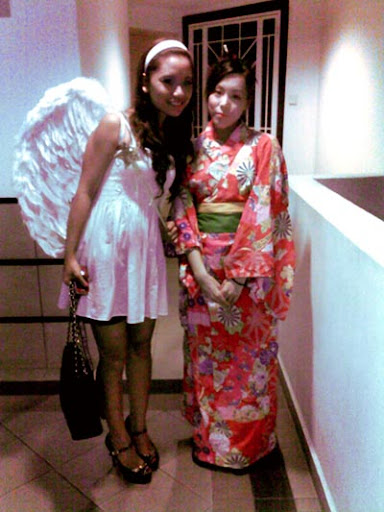 Boo! I seee youuu!
Don't be afraid, its just me, the kimono lady!
Gotta wait for a cab. Group photo! We look like one Halloween Family man, like the Addam's family hohoho~ Feels like the Blue Mansion family potrait movie poster :p
And yes, EVERYONE was staring at us when we walked past macdonalds and past shops and then finally, to the taxi stand! Gotta admit, I do love the looks and stares that we got! Cos they are just Jealous, they can't be as Fun as us!
Diallling darn taxi hotlines that cut me off! Ok this was ME(all happy and cheerful) before they cut off my line cos there were no taxis to fit us in. PFFT!!!! Grrr!!
I find this picture the best so far~ Other than the group photo hee
Waiting and waiting so lets camwhore~~
Our cab dropped us off FAR!!! So had to walk in the rain.. My kimono shielded me from the dirt and water on the floor.. heng.. but of cos i also lift it up a bit so it wouldnt get soaked in the deep puddles!
We're here!!
ALL kinds of FUNNY WEIRD characters pop up. The ones that work there, had to dress up. We don't work there and we dress up too! Halloween mood people!!
OILY GIRL??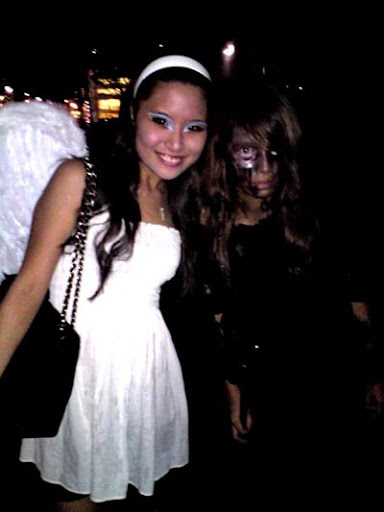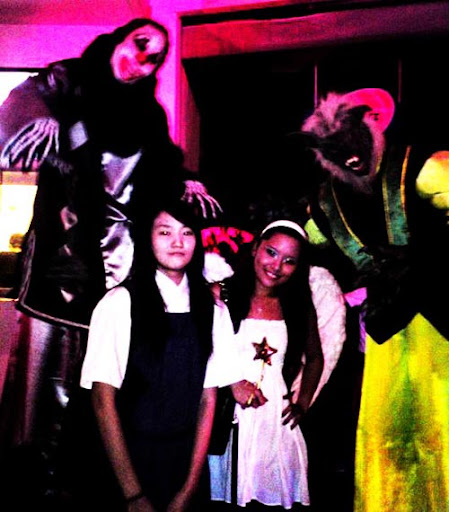 Brought the tube of blood from the Party US the day before and started appying it. Love the effect!
Woopee!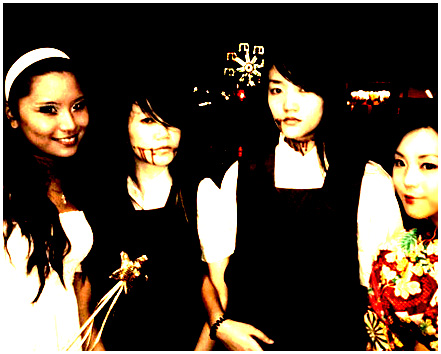 Put our things in the lockers first and we're ready for the scary rides!
I wasnt ready! Dont mock my eyes I tell ya! hahah
Tried out the mini roller coaster for kids and the other ride that I wasnt INTO was the darn Pirate ship! Or the Viking! Sianz... MY worst nightmare lor.. no choice... Succumbed to PEER PRESSURE.. I am SUper scared of that ride... So we waited and waited and waited for our turn..
Our shots here look like a Mannequin! Don't u all think so? Like, fake dolls one! hahaha
You know why bunny is happy?Cos she can't wait to see me freaked out by the viking. -.-
There. The Darn viking/pirateship/whatever.
Shits la.. gonna be our turn sooon...... T_T
Okay. sat on it. Then, one whole row, we occupied. AND, throughout the first 3 swings, the ppl sitting behind us, kept screaming! Like, wtf, its only the beginning lei... -.- they screamed super loud and really screeching away. I was laughing and giggling then omg the ship started rocking HIGHER. I closed my eyes and giggled.... All the way.... until the entire ship got back to normal, and then, STOPPED.
I tried to open my eyes at certain points and I was super scared and freaked! Closing them seem better. Ya, lemme say it again: I CLOSED MY EYES ON THE VIKING, 95% OF THE TIME.
Haha. Got off, bunny thenrealised that I was REALLY afraid of it and not lying.Blah. We walked on and wanted to try out more rides but they were all closed.. We reached Escape themepark around 9+ and the entire rides ended around 11pm.. Not enough time lor... And it was pretty pathetic, only got two food eateries there. I mean, come on! Bring in more fast foods there lei.. Only got burger king and orange julius.
And yes, it was my very first time at Escape themepark. no, Im not kidding you. Last time people ask me out to Escape to hang out and try the rides, I gave them a Flat N-O No. And declined, did not go.. Now, halloween at escape, my first time celebrating it here and in full dressup, im enjoying it!
Last yr, the closest to halloween was me dressing up in zebra prints and going to sg flyer and taking pictures on it, and using the chair as prop as my bed, etc. Tell you all also no use one la you all can't imagine how much I utilised the whole of the sgflyer cabin :p and also cos I havent posted last yr halloween pics yet! hohoho~ After sg flyer last yr, I had to GO HOME liao. Bunny then left for cineleisure with her friends and they dressed up really awesome!!! Totally MISSED the halloween fun last yr lor..
So, I made it a point that NOTHING IS GONNA STOP ME FROM CELEBRATING HALLOWEEN this year! And voila! I enjoyed every bit of it!
This is only Day 1. Day 2 is much FUN-Ner! Hahahha stay posted! Will post when they are ready!
Labels: halloween09, makeup, photography, photoshop
i bleed; therefore i am {11:15}