♥
Saturday, July 25, 2009
|
|
Made MAC 'mushroom' breakfast before preparing for NDP DAY 3! :D||
Got a morning call from Bunny and was feeling hungry and couldn't get back to nap for a couple more minutes so M and I went to prepare some breakfast!
We call it Macdonald 'Mushroom' Breakfast!
There's Mushrooms, Cheese, Bread, and Egg! How can you have Macdonald Breakfast without EGG?! :D
Sorry was too hungry and happily enjoying my food that I forgot to take picture before it was already half eaten :p
These days just been too lazy to blog but yes, I captured the days im out with my Camera! And Im out most days so loads of pictures to share!
For now, today's Day 3 of NDP rehearsal! Im an Insider there! Now how great is that?! Psst. Im just going there for the Goodie bags only which so far after going for Day 1 and Day 2 on the last two saturdays, there were no goodie bags given to us! I hope they do... OMG this year ndp goodie bag is realy nice.. Got hot pink some more! Woot I love NEON colors!
Here are some of Day 1 pictures :) Only 5 from our class came.. So pathetic lor.. Oh and there's one more person that was standing behind the camera, taking our group photo :p
And.. The most interesting of all in Day 1 was... that I had fans cos of my makeup skills in vibrant va va voom eyeshadow colors! There were about 3 to 4 people who liked my eyeshadow and how I did it for them and I was really happy and surprised that a makeup artist(me) could actually have fans who love my skills! :))
My number 1 fan, the lovely girl who first spotted me and introduced me to her fellow dancer friends to let me do their makeup for them :) It was such a rush that I didn't have time to shoot down the makeup that I did for them though.. :/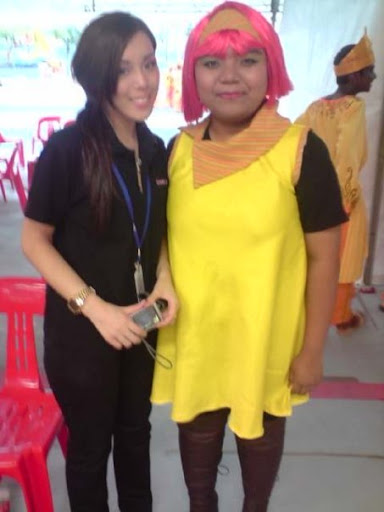 Boarding the bus to go back! Yay! No more sweating it out in the sweltering heat!
Woah we look like Astronauts, flying~
Sat with R cos bunny wasn't allowed to come without a pass..
Tapaoed our Dinner that was prepared for all of us.. Pizza hut!! Brought our own share back to the bus cos there was simply no time to Chow Down while doing makeup for the performers there!
All of us were famished I tell ya!
And im a hungry monster!!!! Scared ya there didn't I! Muahahahaha
Here's Day 2's pictures! This time round Bunny could make it cos the previous time, the school said her PASS was not made yet! So furious la! Cos she was all prepared to go collect with all of us on Day 1 but the school told her to go back home, cannot attend cos they havent receive her pass yet. So angry then lor! But now no worries she have the PASS le! So can go with us! :D
Playing Guitar Hero on her Iphone cos we weren't stationed yet and it was so boring waiting doing nothing there.. Luckily she got games to play in her iphone!
Thats all for now, will upload the rest when I feel like it >.< Now gotta go prepare for my Day 3 at the NDP rehearsal and im left with another sat for Day 4 and the final day for me to still be a makeup artist for NDP will be on NDP itself! Confirm on that day it will be damn havoc and rushed and crazyyyyy..
Oh and lately on Facebook, im hooked onto this game called Restaurant City!!! Its quite fun la, reminds me of The Sims.. Only setback is that you cannot FASTFORWARD the game.. So gotta wait and wait for then to cook up a storm to get enough points to level up :)
Hope I have a good day later and not catch the flu!!! >.-
i bleed; therefore i am {09:25}