♥
Sunday, January 18, 2009
|
|
This restaurant has got to step up its Speed!||
-//UPDATED!//-
After our usual haunts of tom yam steamboats and sushi, bunny and I decided to settle on Swensens at Plaza Sing this time round :)
We were expecting GOOD SERVICE but no. The waiters and waitresses simply ignored us when we stood at the main entrance, along with many other customers piling up from behindf us.
They were just talking amongst themselves!
And it was only until the supervisor spotted the queue, did he quickly ask his crew to serve us.
So okay, we went in. And got a super lousy seat! It was very crammed and our bags were pretty big that day. We requested for another chair to be tucked in beside us (tucked in mind you, we are mindful of not blocking the way..) and the supervisor said NO as that would be a hazard for his crew and other customers.
WTF?!
It certainly would not cause anyone to fall cos its tucked in Very tightly under our table, that is, if he ALLOWED. So we were very unhappy and asked for a different table with more seats (like the sofa area) and he said there were none.
By then we were VERY NOT HAPPY already and wanted to walk out and thats when JUST NICE, coincidentally, there was a table suitable for us further inside.
-.-"""
So we got seated. And placed our order.... But they took very very long to deliver our smoothies....... Took Forever......
Reading the menu ::::::::::::::::::: Bored :::::::::::::::::::::::::Joking around
Super Duper Bored. And Poor bunny was starving.......:(
So pek chek. After waiting so long, only WATER came. TAP water some more.... Not cold some more..............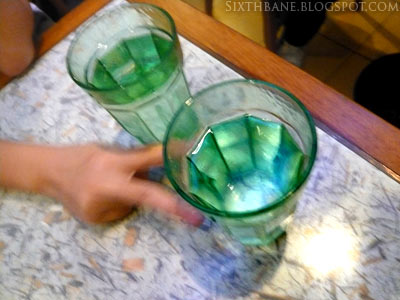 Irritated to the max. Hungry. Wondering why there's so many f*cking service crew around and yet none could deliver our food on time. Could it be that there's only
one CHEF
in that entire bloody restaurant?
Handed Bunny my camera to keep herself occupied and not so bored.. Last time when I was a little girl, I loved the Little Mermaid A LOT that the video tape spoilt completely due to the many times I kept watching it over and over again and even wished that I could be one even! Lol.. Silly childhood fantasies.. Well, that was childhood dreams and im not that hardcore over it now :) Im hardcore over Gloomy Bears now, and Carebears, and a couple of other things too! :)
After more mins has passed.... All we could do was to watch the table beside us eat and boy could these two girls eat! They just simply gobbled everything up and could even ask for dessert! Omg if it were I, the main course would be enough for me! No need dessert! 0_0
AHHHHHHHH!!!! FINALLY THE FOOD IS HERE!!!!!!!!!
(but that's Bunny's.... :()
As for me? What can I do? Just stare and watch her eat...
Then I saw another waitress approaching and...
Yes! Fries! The Fries are here! Great, at least something for me to munch on :D
Her burger looks SO FAT but really now, the 'fillings' are that little.. You could even press down and the bread can flatten some more.. We both felt like we kenna conned by the menu...
Oops and what is this picture doing here?!
Alright. Now my soup has arrived! And gosh, how come the bread is so Burnt at the ends...?
The soup was okay but the bread was super duper hard... I couldn't even break the outer skin of the bread.. The first time I had it, I could eat until the bread bowl was reduced to half its size.. But not this time.. The tough bread skin just won't budge.. But Im glad I have my soup! :)
Been craving for chicken soup lately(but I realised no restaurants serve good ole chicken soup.. ), or anything that's related to soup.. Maybe cos the weather's been very cold lately and hot-to-warm soup are best to warm us down.. Mmmm...
After eating, we tried to settle the bill. But, again, they took 30mins to arrive back with Bunny's card! And at that time, that was when I was so pissed off, I told bunny that we'll just confront them at the cashier counter like why the card has not been returned back to us! And why the hell it took so long for them to issue the receipt?! 30mins of waiting for the card to return is no joke! Plus, other customers were complaining at their poor service too, not only us. So we got up and nearing the counter, the waitress stopped up with our LONG AWAITED RECEIPT for bunny to sign on and we just took out card, made some noise, and left.
Bottomline:
DO NOT EVER VISIT PLAZA SING'S SWENSENS!
You will regret it cos they are F*cking slow and Blind!
There were SO many service crew standing around and they couldn't see our hands raised high in the air(when we wanted to place our order), or rather, they couldn't be Bothered to SPOT us even. WTH?! Even issueing receipt also take
forever
. I really wonder what's wrong with them man.
Headed to the toilet and its the LADIES some more!!! OMG..... I can't imagine how the user used the toilet.. So f*cking gross! Toilet paper extending into the toilet bowl somemore.. After seeing this, Im not gonna use toilet paper to dry my hands anymore.. Imagine something like this happened and how much water the paper has soaked and if the toilet attendant heck cared, she would just roll the whole roll back into the dispenser 0_0 How's that for hygiene? :/
At the taxi queue, it was jam packed full of people.. So we waited and waited.. Thank goodness we had something to play with - camera :)
*Bang Bang*
The End :)
i bleed; therefore i am {05:23}