♥
Thursday, January 22, 2009
|
|
Have you pampered yourself before CNY yet?||
19/01/09 Monday
Im going off to do something real girly later~
I'll update what's that when I get back by the end of the day! :)
As for now its 3am, Im going to bed! Yawnzzz~~~~
***************************************************
Woke up really early to do these!
This took about 2hrs to complete. First time doing gel extension with crystals on top :) Wanted to get ready before cny mah :) So yea, this wasn't done at the place i did mine last year cos I think their prices up like crazy these days :( So yea, I chose a different option.
I chose a design but I didn't like one item in the design and didn't know what to add to it..then the nail technician was telling me "Do you trust me?" And I replied yes.. Lol So she chose on some of these.. I didn't want too much GOLD cos then when I receive the hongbaos with my fingers, people may say "Wah you so rich liao, so much GOLD ah.. okay no need give you hongbao liao *goes on to take back the hongbao from me*" Im just guessing but its true isn't it?! Hahaha
The nail technician was very cheery and chatty somemore! Unlike the other normal manicurists I've encountered before, they were all very silent 0_0 Pretty interesting and we were like gossiping here and there lol After everything, it was $220.. (i don't know if this is the market price la okay but last year when I did my acrylic extension, it costed me like $250 I think, at Nail Palace some more.. Think this year they might charge up to $300+ le. They are kinda like Money grubbers :/ Every year increase different price.) Plus, i've never added bling blings onto my nails before so this was pretty cool, watching them sparkle in the sunlight or even as Im typing now, its so nice to see it sparkle as I type. :)
Then, I took train down to meet up with Bunny for some lunch and I wanted to go for a haircut too.. Met up with her and we headed to the toilet. Then, something bad happened; it was the time of the month, for both of us, on the same day! :( How friggin unlucky! :( Like right smack in the middle of the day, it just happened like that. So suay.. Then before we left, we took some pictures cos it was pretty empty :p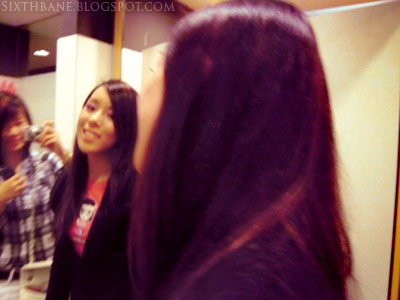 I wasn't ready >.<
Electrifying Nails!!!
Wheeeee so happy :)
Its just so glittery and sparkly ~ i like...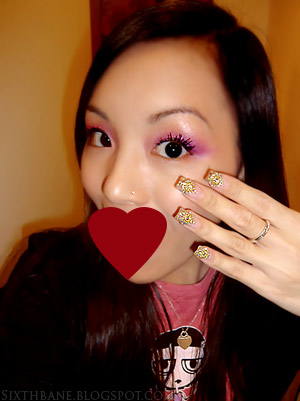 I know the nails might not look like much in the photos but in real life, they look even better! And If I were to do it again next time, I better source out for other nail designs too if not I don't even know what designs can be done on it.. :/ So then next time I can customise it to suit me.. Bunny said this nail design doesn't reflect my character.. its like a little bland in color, too pastel for me.. I prefer dark gothic colors but the nail technician don't have those black 3d crystals that at certain angles, it looks as though there are some rainbow colors on it... so like that lor.. I should have asked her to cover my entire nail bed. I guess I was too engrossed at how sparkly the whole thing was that at that time, I didn't mind it filling half of my entire nail only.. now I have a little bit regret but oh well, see next time have the $$$ to spare and for important occasion, then I go do again :D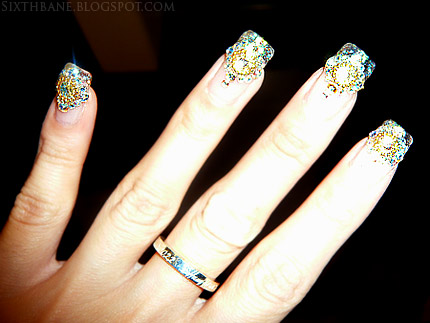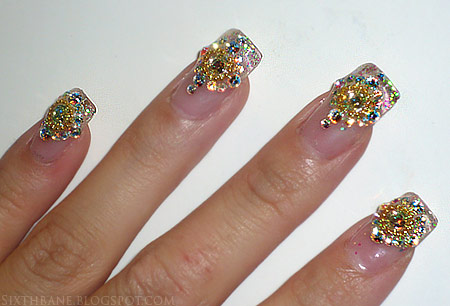 After how I watched her do my nails, she didn't even trim away my cuticles? I can't recall if that needs to be done but without needing to trim away cuticles, it looks so easy now, and fun that it makes me want to try learning how to do this too! Cos it kinda dried so fast too and I was really surprised at how fast it took to let the gel set and harden.. Previously, I think I spent about more than 3hrs to complete it. Hmmm..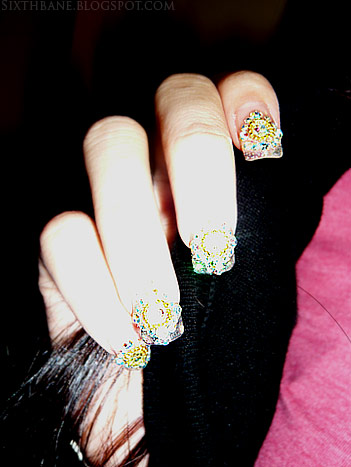 You can click to enlarge the pictures. The design kinda looks victorian to me.. Oh and Im lazy to take close up shots now that Im home so yea, this is all the pics I have :p
Scooted off to
Jerk
Lerk Thai! Damn they should change their typeface.. We keep pronouncing it as Jerk Thai.
Oh yes, Bunny was having very bad cramps and so she ordered hot latte. But no, the coffee machine was spoilt. Then she asked for Warm Water. The waitress came back to the table and asked if Normal room temperatured bottled water will do or the Cold drinks in the menu will do.
Of course Bunny can take neither. Stupid waitress. After all the hoo-haa, we decided to leave. N warm water. What kind of restaurant don't even serve that? Come that time of the month CANNOT take tea, iced cold drinks, cos it will make the cramps worse. Only warm drinks/warm water are allowed. Then finally, the waitress gave in and finally got One pathetic cup of very warm, almost hot, water...
My dish came and I wasn't feeling that bad that day so I wasn't in pain. Halfway eating, bunny was still in pain and many times I offered to help her buy panadol, she kept refusing. But in the end she gave in. *good....* So I went to get it and let her eat. But the pain wouldn't subside..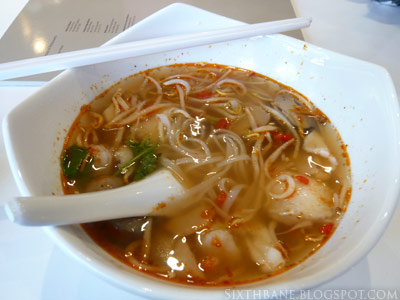 In the end, she had to go home first and I had to go for my hair appointment.. We shared cab there so save the $ and she was breaking out in cold sweat even. Omg... Pain and cold sweat... And there was nothing I could do but hope the cabbie quickly drive her home so she can rest well.
I reached my destination for having my haircut and its my second time with this same stylist. But this time round, she gave me a shabby haircut. She was like bo chup this time. I don't know why. Maybe she does this to repeated customers? Hmmm... Cos after trimming my hair and cutting, I thought there was more finishing touches from her but no. She immediately handed me the mirror to see for myself. Wth? And I though it wasn't over but it was. Overall, I hate my fringe now. Wanted a sexy fringe like I had the previous time but I was too ambitious this time by trimming off more than I can handle.. Stupid me... :(
The day ended early too. With such an ugly fringe, of course I quickly went home la.. Some more the fringe is like too short to do anything about the 'wrong areas' and cannot be amended.. :(
***************************************************
Few days ago, did a Egg White mask, with the help of bunny.. She was telling me how wonderful it is (which brings me back to thinking it does not work at all after Xiaxue reviewed it in her video) but I didn't believe her and she said that it can get rid of the Fen Ci and Dirt and Clogged pores and Black-Whiteheads.. I was skeptical at first but when she told me that Xiaxue did the wrong method, cos she just washed off and didn't use cotton pad on the face, I was like Hmm...maybe I should give this a try :)
1hr+ of standing under the fan (at full power) to make sure the eggmask is completely Dry, and that was what she did. Why was she happy? Cos she could see the 'ugly' side of me. And keep taking pictures somemore. Oh yes she also braided my hair(cos she was bored) and so it looks like im some maid from some country. Lol I kept asking her to put masks too so she don't hav to feel bored and she said that she don't want to look ugly outside. wth....
In the end when it completely dried up on my face, it was pretty painful to remove!!! Omg. I couldn't evenn talk. It was like paper mache hardening on my face and I had to peel it off! Plus, I have facial hair too and it got peeled off too! Pain.. But worth it! I could see the grime and dirt and 'heads' stuck on the mask and I didn't have any adverse reaction to that so maybe I'l try this again! :) Oh and it made my skin really smooth and pores were smaller too! :) Plus I had 2 pimples that were like trying to harden and this mask made them slightly smaller too! :D
Labels: beauty, diymasks, food, nail palace, nails
i bleed; therefore i am {04:44}