♥
Tuesday, November 18, 2008
|
|
My GORGEOUS Pink (sparkly) traincase! Dare you say you don't wanna view it?||
Here's the video to my pink traincase.. Decided to try doing a video of it and god I feel so embarassed *blush* first attempt at it mah so pardon me :p
Seriously, I have no idea why my voice sounds so...weird in this video.. and i swear i did not purposely make my voice like that 0_0 Anyways, I took pics too, of it FILLED UP! And no, i couldn't contain all my things eg. creams moisturisors lotions so I might be lemming for a BIGGER traincase!!! Maybe a Sephora/Japonesque.com Pro traincase! Or maybe, back to the traincase that I saw at far east, in that 2 headed snake bitch shop..hmm..
IF YOU'RE INTERESTED, YOU MAY VIEW MORE DETAILS OF THE FAR EAST TRAINCASE SHOP HERE
(then you'll know why I call the shop person a 2headed snake bitch - money grubber, but also the first time ever seeing the shop have many big traincases with rollers too, which cannot be compared to the other two shops in far east selling traincases cos the rest are too small.)
Here are the pictures of it all filled up! :) + my crazy lip balm collection :p
Taken without flash, in natural lighting :D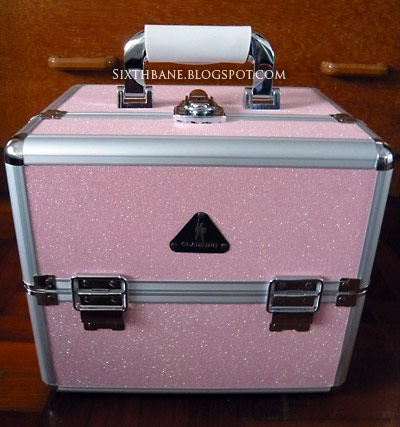 With flash, its still as sparkly as ever!
This was the brand that was practically found everywhere I went into, that sold makeup traincases.. This brand is from Korea
(according to the sales assistants)
and seems a little like
Japonesque.com
brand which also have very nice traincases there! I don't know if I should order their
Pro makeup traincase
or not.. since I need another one le.. Or maybe I should try get a Sephora big traincase instead.. Hmm..
(you can never have too many traincases hehe!)
Top view.
Tadah! My gorgeous sparkly pink traincase!!! Don't think im throwing the sponge wrapped around the handle.. Keep it from getting rusty.. Hope that helps a lil :) Taken without flash.
And once more, taken with flash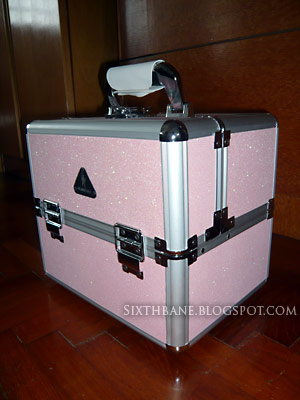 Lock em up! Hmmm I haven't tested the key to the lock yet though.. :/
Now I present to you, the side view! 3 tiers here and I know they look lopsided but I guess I really 'maximized' it a lot :p
Opening it out and NO, it does not topple on the extended tiers side. There was a few i saw that I saw in various shops, that were not good.. The tiers were Wobbly, and when u extend fully the tiers, it would topple immediately! Eee.. this kind.. lau yar pok(lousy) one.. and their exterior seemed very fragile like if u accidentally knock it into hard surface, it will crack/break the casing..
And there you have it, the things I use frequently.. As for the rest of my other cosmetics I don't really use often, I've left them chucked in my other shelves haha
The top tier I use for my brushes and mineral makeup, 2nd tier for cosmetic essentials, 3rd tier for more loose powders and lip balms plus some items I don't use that often anymore and the bottom I use it for some items I don't use much at all so I shifted it here cos it takes up a lot of space on my shelves! Haha plus its heavy and bulky..
(gives weight to the bottom making it even more sturdy and stable hehe :D)
I know its FUNNY how I lay kitchen paper towels for my brushes to rest on but im very particular on Hygiene and this box wasn't Plastic wrapped AT ALL so god knows how 'dirty' and touched by many people it is... Though I cleaned the inside all over with a little damp cloth and a little bit of baby wipes, its not 100% germ free la.. And brushes tend to gather lots of bacteria so placing it Directly on the tier area isn't really a good thing. Cos then you put it on ur face and the bacteria from the tier transfers into your skin! Hence breakouts occur :/ So I guess placing a layer of Thick kitchen paper towels should help keep it clean for a bit (and of course whenever I wash my brushes, thats when I change the tissue on it too! :) keep my brushes clean yo!)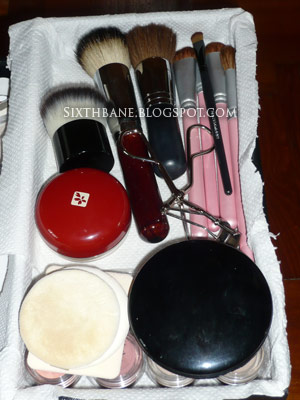 Okay and below the two big items that I've removed are my
Everyday Minerals
shades..
For now, Im using Fairly Light MATTE and to finish my makeup, I dust some Multi-tasking SEMI-MATTE on cos it contains a little shimmer in it, to give the glow on my face (hence its called SEMI MATTE and not MATTE :)) And for now Im also using Apple BLUSH for cheeks andPearl Pick me up CONCEALER for my eye area to brighten it up since it contains a lot of shimmer and perfect as a 'highlighter around my eyes' :D I might be ordering another batch of everyday minerals and this time, I might be getting Original Glo formula (more shimmery than SEMI-MATTE formula for healthy face glow) and Intensive formula(this is full coverage powder so must take one shade lighter else apply on skin it might turn darker hehe)
Oh and if you were wondering where I got the plastic tray to store my everydayminerals samples, it actually reused from the 16piece Ferrero Rocher tray.. :D Damn I love Ferrero Rocher! Hehe
Lastly the pink brushes and the other brushes u see here are from
Coastalscents.com
:D Oh and thats my Shu Uemura eyelash curler and the red loose powder is my SANA loose powder I got from SASA :D Its great loose powder.. Give healthy glow to face too and I use it as the final step if I were using my chanel compact on my face on random days hehe
Click to view bigger image
2nd tier :)
#rd tier.. All my lipbalms and loose powder and other stuff I don't use That often..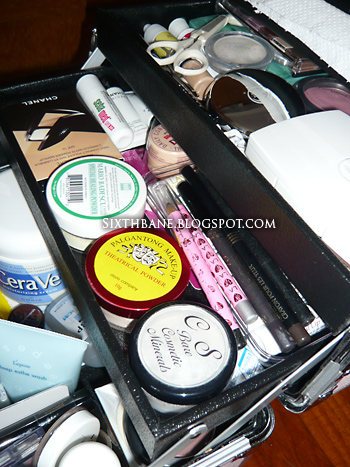 There, all the
Mylipstuff.com
items! Ordered so many at one shot! And im so excited and eager to try out the flavours! Hehehe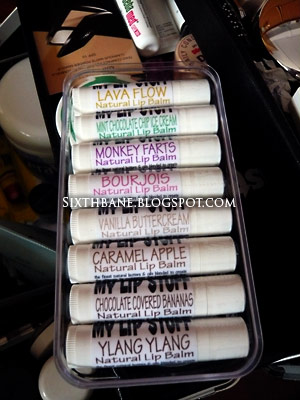 Here's my lip balm video hehe Yea I did a video on all my lip balms that i have including one that I really love and Works so much better. Its my Holy Grail lip balm! The video was taken few days back at 4am 5am? Around there.. So voice sounds quite..monotonous lol.. Yea and you can laugh at it all you want and if ya don't like the vid, just press STOP and scroll down this entry >.<
See that there?! My MAC pro item! Its a eyeshadow palette! And I only have 6 eyeshadows (from NYX) that are rounded and the rest of my eyeshadows are of odd shapes and sizes.. So what I did was, I lifted up the top circled palette and its now all flat surface inside. Gonna depot all my eyeshadows and stuff them inside here soon...
(i hope..:P)
Yup, my creams.. See that giant one there? Its Cerave Moisturising Cream which I got from Drugstore.com and take a look at the reviews. Seems pretty good thats why I got it. Can be used on face and body. I used it on my dry patches (really dry scabby eczema patches i mean) and it made the area smooth very fast! Usually when I use my other eczema cream, it would take like 3-4 days..but this one took like 1day? Okay maybe 1.5days and the area was healing very well and very smooth! As for my face, it made it very smooth don't think it clogged my pores but im switching in between this for my face and my Clinique Dramatically Different lotion (oil free) for face and other items too hehehe
Next up, my liquid foundations and my proactive repairing lotion which I don't really use much anymore and neither do I use differin anymore but just left it here.. Haha and that's L'esthemo 5-in-1 moisturisor which I haven't got around opening it yet >.<
And i've tried my bestest to store ALL of my things but it ran out of space! Couldn't put my other face moisturisors... and body lotions.. and other creams.... :( AB was telling me the day I got the pink traincase that I should've gotten the GIGANTIC one instead.. Which is this one with the rollers that I saw in the two headed snake bitch shop... Its the Biggest one on the far left you see in the picture.. Thats the one with wheels.. Its Gi-normous and might just be the one for all my things! Lol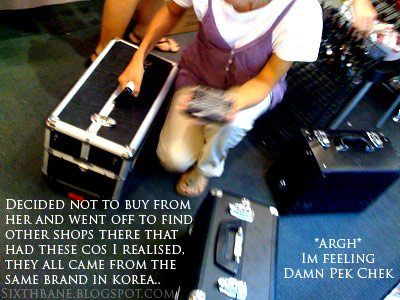 Whew I feel so much better posting these up! *happy* Oh and.. My MOUSE died.. :( My favourite mouse died.. OH not the breathing one but my desktop mouse... :( It was the only one that didn't gave out any static/electricity while I used it.. Now i've gotta find a new mouse..
Labels: beauty, brush traincase, coastal scents, everyday minerals, gladking, holy grail, japonesque, lip balms, pink traincase, sephora, stuff, wishlist, youtube
i bleed; therefore i am {19:45}