♥
Monday, September 01, 2008
|
|
Quick Update before Surgery :(||
Going for surgery now.
Post pics first. Elaborate later!
****Updated****
Took a shot of my mouth before I left the house.. See? There's so much gum covering my slightly exposed wisdom tooth.. Die. Definitely need to get my gum sliced le..
Shopping loot from yesterday! :D
Beauty Magazine (my fav they give really good skincare product reviews and many other things related to beauty)
Mini spray bottle (for mixing my glycerin & water together, happens to make eyeshadows appear brighter)
M.A.C. Fix+ spray (rich in vitamins and good for all skin types)
M.A.C. Renewal Defense Charged Water (rich in vitamins plus protects skin from environmental pollutants, for all skin types)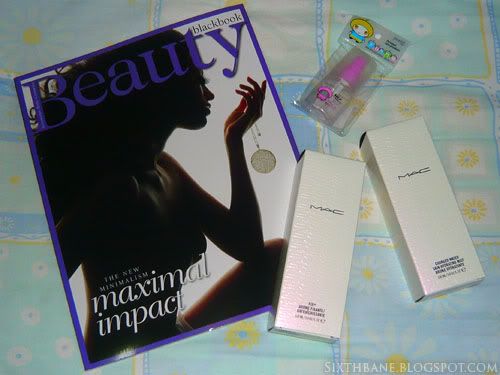 For the M.A.C. charged waters, other than the Orange liquid(Renewal Defense) they have it in Blue liquid and Colorless liquid but the blue and colorless one, seems more of like a sales gimmick for consumers to get it cos if you google the properties and ingredients, you'll realise that the blue and colorless one doesn't help much for the skin and actually, all you need is just the Orange liquid one and the Fix+ spray. :) Or if you can't really afford, both, then the original Fix+ spray will do just fine :) But im kiasu(greedy) and I want my best for my skin so I got these two heh
Took them out from the box. As you can see, the black tops, they have this 'twist-lock' feature which is very helpful if you want to carry it on the go to school, or shopping, or even packing it in your luggage when you go overseas cos the top can be locked and your liquids won't spill all over :D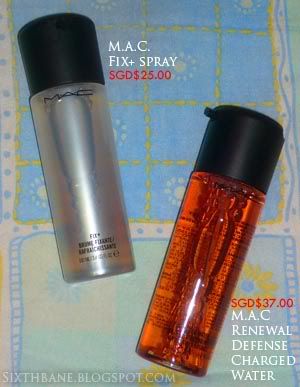 This is the back of the M.A.C. sprays so you can see the ingredients and properties :D
(click to enlarge picture)
I also went to see the doctor's yesterday for my painkillers.. I was given 500mg and ten tablets. Im going to take one later before my wisdom tooth surgery..
I was running out of my acne gel so I 'diligently' kept pressing and pressing my acne gel tube on saturday night.. This is GOOD stuff. It kinda peels/flakes my skin so I use it only at night or in the day (when Im not intending to go out at all). And so far, when I use it at night, the next day, I wake up to see my blackheads around the side corners of my nose reduced, and pimples flattened and reduced. Like, my blackheads are not that visible anymore (or rather, you can't see it around the nose, which is a good thing hehe). It helps prevent pimples and 'flatten' the existing pimples. I used a bit at first but slowly started to build up since my skin got used to it. I have only been using it recently, for one month. And I find its really good in curing my acne. What's left on my face now are some pinkish red acne scars (and no, im not gonna take a picture of it lol).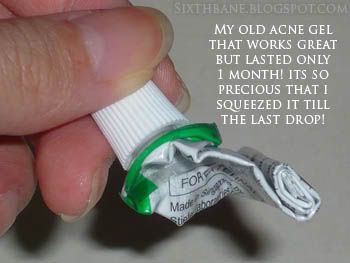 Also, anything that kinda peels your skin, is Good. Thats my logic. But of course, if it makes your skin peel drastically like a barbequed sunburnt skin, then that kind of product is really Too Strong for your skin. I've experienced it before. So I know. And you really don't want to experience the Burning sensation/ugliness. It makes you want to kill the beauty therapist for scarring and Spoiling your face. (don't worry, the therapist is alive and I've sworn off her dubious products forever!).
p.s. she's a china lady and her stocks are available only in her beauty shop so I find that if next time she's moved or whatever, its hard to get stock from her.. Thats also one of the reason why I don't want to 'invest' in her products. Even though my fren and her frens have been positive about her products, I beg to differ.
Show you the back of the tube. I pressed so hard that my thumbnails hurt. Cos while I pressed the tube, my thumbnails bent downwards too :/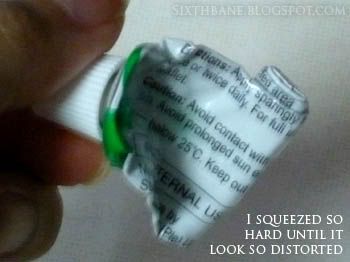 Down to the very last bit! Haha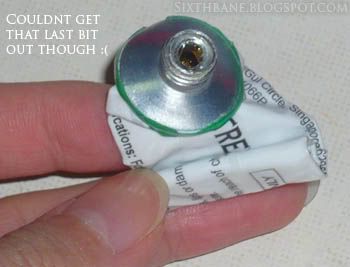 Then I consulted the doctor if there's any lightening agent and he kept saying that the acne scars will fade in 4mths time. But, I DONT WANT TO WAIT SO LONG.... So he suggested this product.. And I agreed WITHOUT asking the price first. Stupid me... Then as I got out of the doctor's office, moments later, the doc left too. Change shift.. It was only when I was about to pay at the counter then the receptionist told me the price and printed a detailed breakdown receipt for me.. I never used the scar lightener cream before so I hope it works. It has some of the properties of my acne gel so its kinda 3 in 1, good stuff. :) And also, Hence the PRICE...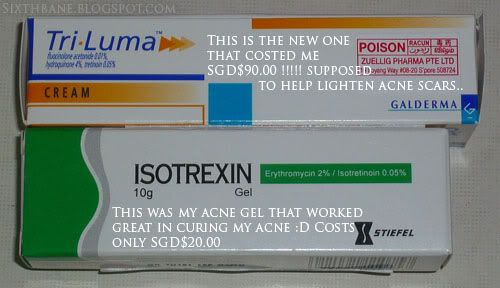 You can take a look at the properties and ingredients if you like :)
(click to enlarge picture)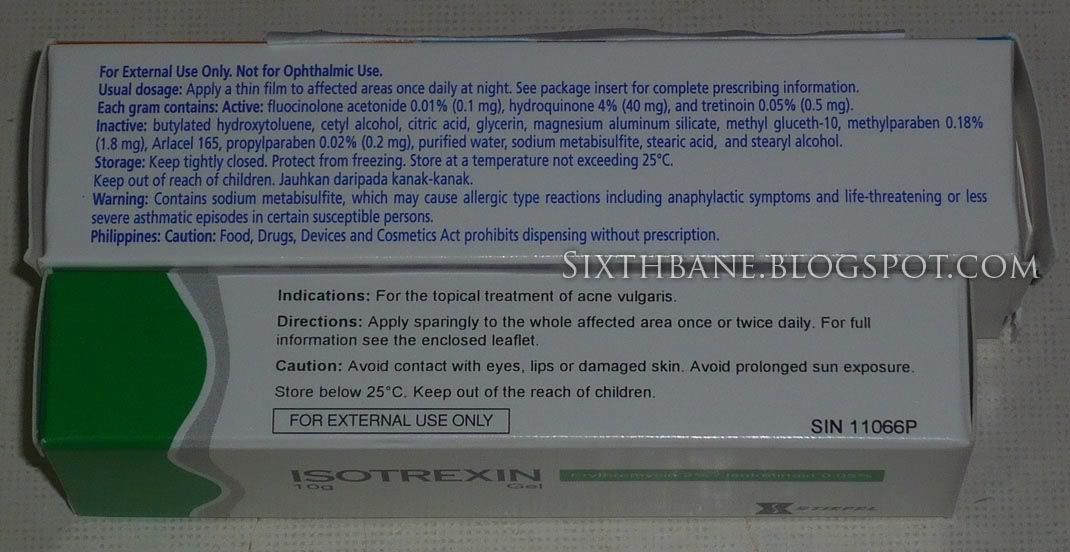 I opened both boxes and.. the only difference is that the scar lightener(tri luma tube) is 5g more than my acne gel (isotrexin tube) and it costs 4times more too!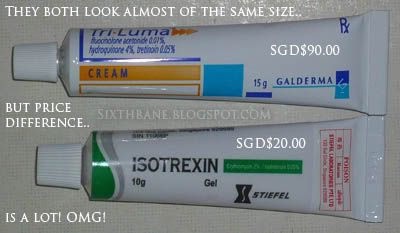 Okay and Im going to go to the dentist now. Wish me luck! I need to brace myself!!!
:(
Labels: acne, beauty, curing acne, hydroquinone, isotrexin, m.a.c. charged water ingredients, m.a.c. fix+, m.a.c. renewal defense charged water, shopping, tretinoin, tri-luma, wisdom tooth extraction
i bleed; therefore i am {14:50}