♥
Tuesday, September 30, 2008
|
|
My Nerve(vein) was attached to my tooth! PIctures included||
29/09/08
Warning: This entry is gonna get pretty bloody (gory)
I am back home! Met up with bunny for BRUNCH early in the morning! Okay not that early but it was before noon! We were both late, as usual but I was damn glad that this time, I was the earlybird! Arrived at the place and went to the book store and saw many nice vampire comics! And deathnote comics! I want to collect it all! :D
After a while, she called me and said she's reached! YAY! So we went scouring around the place for a place to eat! I wanted crystal jade one.. But it only opens at 11am and we were there at 1045am. NO TIME!! My app is at 12noon, I can't be late so we were walking and omg, mos burger was just..everywhere! I thought of going there(i don't get tired of my favourite places to eat!) but then i'm only in love with the Mos Fish burger only.. And I think she's also sick and tired of mos burger already (its like everytime we meet, there are no other eateries to go to but ONLY mos burger -.-)
We then decided to settle on Pepper Lunch! The staff there were like welcoming us in so OKAY, we Went in!
We sat down in a little corner and read through the mini menu they had by the table. Okay great, most of the food contained EGGS! I can't eat eggs now. It wil make my wound inflamed later(after the surgery) so I
have
to stave off that!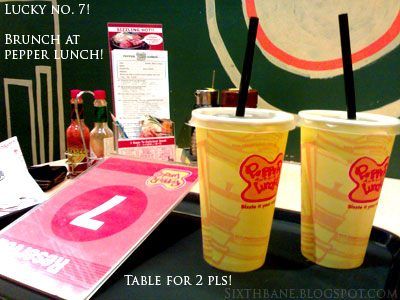 Then bunny recommended me to the Salmon Pasta and well, its Very creamy and its Pasta so it should fill me up all the way to the next day. (cos I can't eat after the surgery and i doubt i will be able to eat much too)

Oh and last night, bunny wanted to head to Cafe cartel for breakfast today but I said the entire menu was practically FILLED with EGGS! So cannot. But well, we're gonna try there when im totally recovered! Yay!!! I LOVE EGGS!!! yummy!

So we both moved our asses off the seats and went to make our order. What happened next totally ruined my appetite, day, and time. I was running out of time and it was 11am already. My app's at 12 mind you, I have to at least reach there on time or be earlier than that. The staff told us to wait for 5min. It was 11am showing on their pepper lunch clock. Fine. We WAITED. Then when the counter opened, I ordered, the staff was like GOONDOO (moron) cos she kept keying and it took really long. Mins ticked by. I asked her, "So how much is it in total?". And she replied "Wait wait, the cashier isn't working properly". Frustrated, I wait some more. Then I was Very irritated and impatient already. Time was running out for me. I told her, "NEVERMIND OKAY? WE GO OTHER PLACE TO EAT. I DON'T HAVE THE TIME TO WAIT."

I signalled for bunny and I was about to turn my back to grab my stuffs at the seat. Then the staff said she go change to the other cashier that can work. WTF. -.- So okay, I placed my order again and had to repeat it like the 3rd time then she get it. Plus bunny's order too. Damn la the staff woman was really blur.. GOONDOO.

Alright then, we went back to our seats. By then, I was pissed off already. ANTICLIMAX feeling already. Hai. Nevermind what to do? I guess the meal portion is gonna be big enough for me to be really really full..

And yes, it really was A LOT.



I tell you, Pepper Lunch meals, are HUGE enough to feed two people. Okay, two ladies that is.

And this was hers.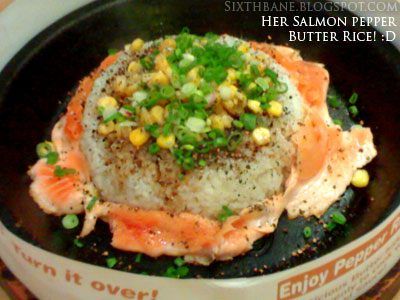 Not too bad. It was pretty much 'cooked' and I was blur blur. Didn't know that the salmon had to flip over. Bunny told me to stir a bit and okay I did it. First time here at pepper lunch ordering this kind of Big dishes mah.. The last time I tried pepper lunch, I had the Salad there. Yup, the vege & noodles in a cup. Lol. Pretty bland stuffs but guess its still fattening. Cos of the noodles..




So we were 'cooking' our food and I quickly chowed down.
Ninja Bunny! *Fierce Fierce*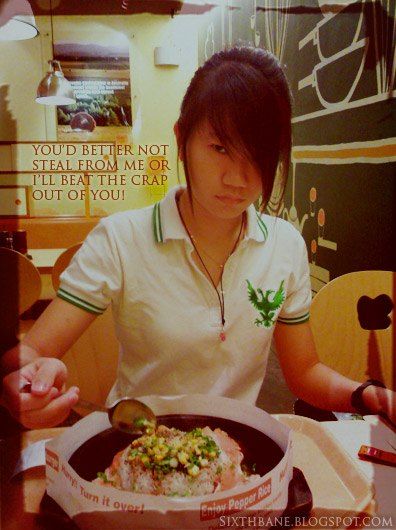 Snapped her on the sly! She was actually looking AWAY and who knows, she suddenly looked at me when the camera snapped. Whahaha!


After eating, we quickly rushed off to the escalator and halfway on the escalator, I remember something. I totally forgot to take my painkiller!!! So we went back down and got a drink.. Then I quickly took my painkiller (cos it does take some time to take effect) and oh gosh! Its 1150am! Die. Then we parted ways and I Quickly made my way..

At the dental clinic, I went to brush my teeth and heng I arrived on time. Apparently this dental clinic is very stringent on punctuality -.-

Okay so again, I set in the dentist chair and they Jabbed my mouth. But this time, the doc jabbed me 3 to 4 times! Oh gosh. Right there and then, I KNEW it was gonna be a difficult surgery.. Cos the last time I did my first wisdom tooth surgery, he only filled the syringe twice. But this time he filled it like 3 to 4 times.. Sigh. Then after that, I had to gargle in the disinfectant liquid and my hands were trembling! Really trembling! But nah, its just the anaesthesia taking effect in my system.. Haha..

Okay then this time round, a different nurse came and told me to listen to music if I have an mp3 with me. OMG! I COULD listen to my mp3?! Why the first time round no one told me?! Gosh. Then I had to like bear all the Znnnngggggg sounds from the blade cutting my tooth... Scary.

Okay so I took out my music player and listened to songs. The whole procedure was like tougher than the previous. Cos the dentist kept slicing my tooth and I could feel a lot of pressure in my mouth all the way during surgery. :/ I knew something was different this time round.. Tougher..
Alas, the tooth got out and he sewed me up. Alright done! Then the dentist asked me if I felt any pain cos I kept groaning the whole time. More than last time. And I said I feel no pain but pressure only. (actually, I think cos I was listening to music, I couldn't hear how loud my groans were hahaha) And then the nurse told me to take a rest, the dentist is gonna get his camera.
CAMERA?! HUH?!
Then she said that he wanted to take a picture of my tooth. OMG. My tooth? How magical could it be?! Lol. So okay I waited and the dentist was SO hyped up over my tooth. At that time I had no idea what it looked like.. Lol.. My tooth is SO interesting uh?


Okay the dentist took his fill of my tooth and showed me. OMG. It had a Vein hanging on it! He explained to me that when the tooth is not matured yet, the nerve will stick to the root(bottom) of the tooth. And as it grows older, usually the root formation will change and look like the normal tooth root you see with two pointy things at the base. Moreover, the nerve connecting to the tooth, wil be smaller as it matures and so when you extract your teeth, it is more likely to break off from the tooth (thats why usually you only see the tooth without any nerve or vein connecting to it)
So ya, mine apparently was still attached to the tooth and the way the dentist sliced my tooth was straight down and the nerve(vein) was still intact..
Show you all.. Its gonna get pretty bloody for a bit :p But yup, I reduced the images' size so it doesn't look so scary.. Hahaha :p Oh yes and when I got home, it was pouring like crazy. Thank god I got home before it rained heavily! And I changed my gauze too it was very bloody. Took a picture of my mouth.
I got a HUGE HUGE HUGE shock when I saw the picture! OMG. SO MANY STITCHES! So much more than last time! Totally freaked me out! My hairs on my arms were standing :/


And this was my other surgery done just two weeks ago and see?! The stitches here were neater and LESSER!!

And now I show you my tooth. The red thing hanging onto it is the Nerve (vein) and the tooth base only show one 'root'. Usually normal tooth u see the base, has two 'roots' right? Ya this time round, my this tooth is not matured yet so tats why the formation is different.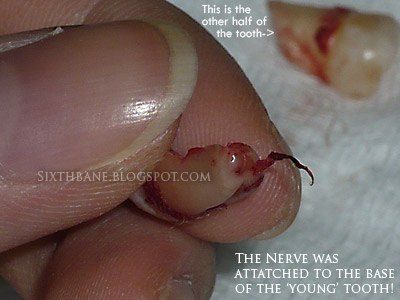 And there you have it. The centre was sliced away..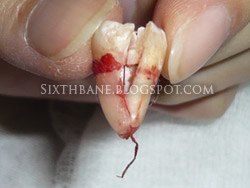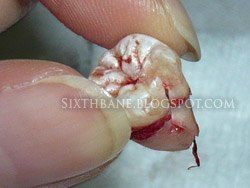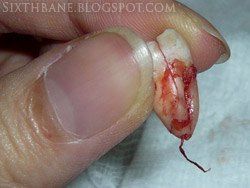 If you wana see more angles and views of it, click here to enlarge image.
(I put this up for all dentist-to-be to take a look since my case seems pretty Rare :p Oh and other twisted sadistic people can take a look at it too hehe)


This is the divided section of the tooth. Bloody ya I know. Fresh out from my mouth! <- okay that sounded kinda wrong :p


The other side of the tooth :)



And more pics of the divided sections..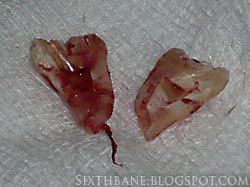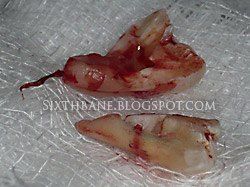 Okay enough of the gory stuffs.

Good news is, the bleeding stopped just 4hrs after the surgery! Thanks to me drinking chinese herbal soup the day before the surgery.. The herb name is called

Kor Lei Sum

and you can ask for more info about it & how to cook it in those Chinese Medicine shops. This herb helps you to stop bleeding too much if you're gonna undergo any surgery.. Many people tried it and worked.

Im not going to name names but one friend of mine felt that she was going to give birth so on the day itself, she drank it, then admitted herself to the hospital. And she gave birth successfully, no caesaran done and it was a very healthy baby and the doc wanted to keep her thing. The doc was surprised to see that she wasn't bleeding that heavily but everything turned out fine. (and no, she does not have Low blood presure. ) Im not sure whats the thing called in english but it was very healthy and good for some medical use. Not sure issit the umbilical cord or something that the doc kept, hmm.

My next other friend had to undergo breast surgery and so two days before the surgery, she drank it and on the day of surgery, the doc prepare two packs of blood just in case and after surgery, she asked doc, the doc said that he did not use the two packs of blood cos she did not bleed much.

Okay besides all that, I didn't have any dinner and I slept at 2am plus in the morning. Thank goodness I had a filling lunch then! Oh and this time, one side of my mouth got swollen! Swell up like chipmunk! WAHHH.... Last time didn't swell up de but now, this time, it swelled up!

The dentist said my tooth was embedded too deep this time thats why the procedure was harder this time. And sometimes the experience is different de. Im just thankful that I did not bleed much this time.
*************************************
As for today,
I woke up at 4pm. Damn late for my antibiotics! Supposed to take one at 8am and damn I missed the timing! Shit la.. Then I could hardly scramble out of bed.. Why?
Cos I only had food at 12noon the day before and after that, I did not have anything else other than drinking cold water & some cold milk for the rest of the night and I had no food.. :( No appetite to eat. Afraid that the bleeding would start again. Then, my legs today, felt very weak.
Its been like 28hrs before I had some real food le.. Maybe thats why I felt really weak. Got up, had porridge but this time, it didn't hurt that bad. And i think tomorrow I shuld be able to munch on bits and pieces of bread le.. Just that my mouth is SWOLLEN still! (And no, Im not gonna take a pic and post it up for all to see! Im not that stupid! Later like dawnyang kena so many ugly pics that huant her now)


And for dinner, I was thinking of adding some stuff to go with my porridge. So decided to add some scallops. Soft, easy to chew and swallow.. Bad choice. After cooking, I was stirring my porridge and it dawned on me that SHIT! Its Seafood! Damn! I shouldn't have added it cos it could cause my wound to go inflamed and swell due to seafood allergy. Yup, im allergic to seafood like these but fish is safe for me. Still, I eat them cos they taste Good. Anyhow, I've managed to take my antibiotics and so far so good. I just realised that Painkillers make me short tempered. Like, get pissed off and angry easily..
Labels: dentist, painkiller, stitches, stuff, wisdom tooth extraction
i bleed; therefore i am {22:25}