♥
Monday, September 01, 2008
|
|
Not looking forward to my Surgery tomorrow! :(||
Managed to get my mac stuffs today! Yay!
And.. Tomorrow is my wisdom tooth extraction day.. Im so not looking forward to it. In fact, Im very nervous and AFRAID that I will feel the pain... :(:(:(
Sigh but still its gotta be done no matter what hmm.. I hope the dentist does a good job! -.- Im so scared...:(
Okay thats all for today. Watching blade trinity now then I need to get my sleep. Very tired.
Went to the doc's today too to get my acne cream plus.. I asked the doc for some scar lightener and OMFG, it costed me 90 bucks just for one miserable small tube!!!! I never tried that tube before but I hope it works! And also got some painkillers.. Hope it doesnt make me feel the pain.. :/
Kinda regret not waiting longer cos SW's one, she got her own skin/scar lightener from Dr Joyce Lim at Paragon and it costed her $45 only! -.-"
***************************************
Okay but first thing's first. I shouldn't have had Tomyam noodles yesterday for supper.. Plus I added 3 big spoonfuls(those soupspoons that comes with your bowl of noodles in hawker centre) of Huadiaojiu (chinese cooking wine) cos it could make my gums swell tomorrow! AHHHH!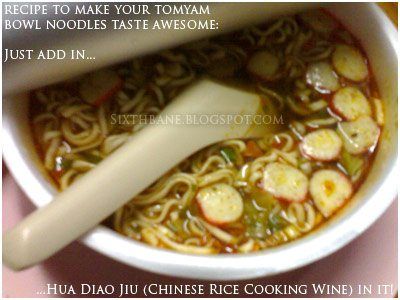 Yesterday, I watched Wall E then I visited the IT fair at suntec. Not too bad.. Same things Different day. Wanted to get a new external hard drive(those TB ones - 1000gb) cos I have SOO many files!! Need to rid my laptop of some to get more space but I can't delete them, duh~
Spotted these CUTE costumes at the fair too!
Woot!!! They were handing out notepads and some bookmarks, I even went to ask them for it haha~ *blush*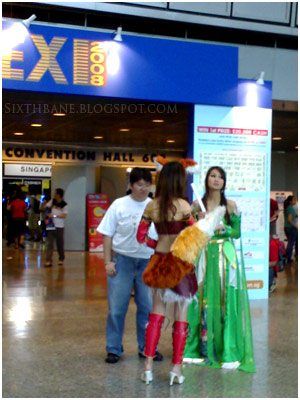 And after that, I decided to head to Raffles City, thinking that I could get my MAC products and who know?! They were under bloody renovation! And I was DRENCHED mind you! I rushed all the way there to find out that it was not open and then I was so pissed la!
Should have called up the Mac counter to verify first... Stupid mistake.
So I went back and it continued to pour.
Went back and I started washing my CoastalScents.com brushes. Im gonna do a review on it soon once I finish taking pictures. Its gonna be fun! But there was one that kept shedding! Not SO heavily but it just kept dropping hair as I was washing it and there were like color that came off that brush. Had to wash quite a couple of times before it was completely clear of the colored stuff.. (mind you, a couple of times is not 4 times, its more than 4 times I was washing it)
Lastly, At 12 midnite this early morning, I Ordered my Ultra shimmer 88 eyeshadow palette & Diva Defense Primer (large one) from Coastalscents.com!!!
Whee! Can't wait for it to arrive! Its gonna be COMPLETELY SOLD OUT in 2-3days. Trust me. Everyone in the world has been waiting for it to be instock after a long period of absence...
****************************************
I'll upload my shopping pics again..
:)
Labels: beauty, best primer, cheap brushes, cleaning brushes, coastal scents, comex 2008, curing acne, fox costume, it fair, m.a.c., shopping, ultra shimmer 88 eyeshadow palette, wisdom tooth extraction
i bleed; therefore i am {00:00}