♥
Thursday, August 28, 2008
|
|
SPOOFVIDEO: You want to hear KINGKONG sing?! Here it is!||
Was watching beijing olympics for the second time last night cos i missed the Jackie Chan performance during the first screening of it when halfway, I was sent this youtube video url on.. OMG it is King Kong!
But wait! Something's amiss! You watch it then you know what's
wrong
funny about it MUAHAHAHHAHAAH...
Crazy right?! The song from Shrek mixed with scenes from King Kong is so funny!!! hahaha
Okay and my Coastalscents.com package arrived yesterday and ONE of my Everydayminerals.com makeup came but IM NOT HAPPY!
Cos I ordered 3 things all in the same
day
night, in the wee hours of like 5am two weeks ago on the 16th.. One order was from coastal scents and two orders were from everydayminerals...
But.. Only the 2nd order came and not the 1st order from everydayminerals..
So im praying hard today that it will come..
And bunny was telling me off cos I mentioned 'hope' and assured me that my package won't be lost and it Will arrive..
Still.. I'll only get to find out later.. (keeping my fingers crossed)
:(
Next, my Fcuptea and Fcup cookies came a few days ago.. The fcuptea is pretty new. To this day I havent tried. Maybe later :) As for the cookies I love them. Its really good and kinda makes the boobs meatier and more of 'substance' rather than 'not that meaty'. Lol. (No dirty thoughts okay haha)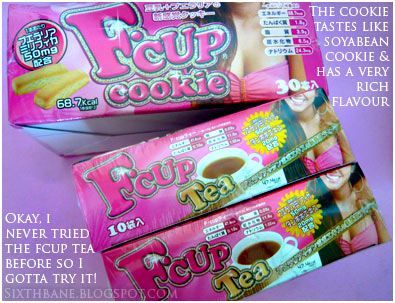 Finally, my necklaces came.. :( Waited for 2 wks for it to arrive! Ordered since one week before National Day and then it arrived like last week i think. I can't remember la but they stated on the website that they will mail out in 3-5 days. Then the ridiculous thing is that they said they left My package at their supplier's place and need to collect it a few days later and then they can mail to me.
I sent them many emails but then they didn't reply. I sent them a final email and reminded them that I Specifically opted for Registered Postage (that way, they cannot shirk the responsibility and mail me thru normal postage - has a higher chance of getting 'lost'/seller simply say package got lost but its the seller that Con your money away) so I need my RA (registeredmail) number - for tracking purposes.
Either way, it was such a bad experience with them. I doubt I might be interested in getting anymore items from them.
I got these necklaces and they don't come cheap. I got it cos they are super long and come in Hot pink, and Royal Blue! :D And the 4th necklace is short and I got that from Diva. Its very durable and some of you may have seen me wearing it in some of my pictures or saw me wearing it out.. Then now it looks so tiny when the three big ones are beside it!
Pretty colors! Will wear them when I go out next time! Whee more necklace accessories le!
:)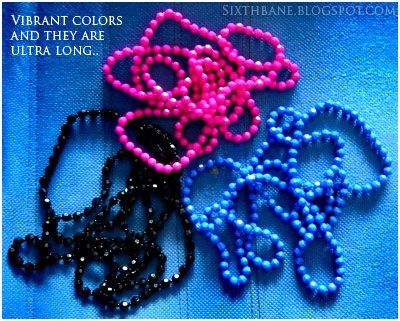 However, not all pretty things are good you see.. As compared to my black Diva bead necklace, that one is not attached with a string across beads but its of a different make. And for these 3 new necklaces, its just being strung across by a thread lei and somemore the beads aren't close fitted together. Like i hold one end of the necklace, there will be 'empty' space on the thread.. And it seems it could snap easily it its being tugged at :/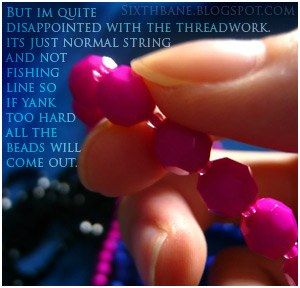 That day watched The mummy and I got this green cow. Eee. Weird color. But its a
piggy
cow
bank so pretty cool haha..
Okay and thats about it for now. Im having my dinner and watching the news and wow, I saw snakes! :) Green tree snakes. Reminds me of those times when I held my babies in my hands..
But well, they're gone now..
Labels: beads, black beads, coin bank, fcup cookie, fcup tea, hot pink, moo moo cow, piggy bank, royal blue, shopping, solution to bigger boobs, stuff
i bleed; therefore i am {18:30}