♥
Thursday, July 17, 2008
Today had dinner at Seoul Garden with them and took quite a lot of pictures plus, I got my Mcdonald's olympic Glass and Toy! Whee~ Im SO gonna collect ALL the mini olympic toy minatures! Turns out, they are actually Stamps, with ink in them! Or as the kids say, they are "Chops", can "Chop" onto their hands or on their teeny tiny notebooks! :p
************************
Now I present you..
Dinner with SW at Fish & Co.
I'll post the pictures up first and add in the words later, I need my beauty sleep now, gotta wake up Super Duper early tomorrow~
Only using Chanel face powder. No BB cream on, No eye makeup on, No blusher on, Brows not drawn...
I was late so I rushed out of the house with just face powder on me. And yep, I look sick don't I? But SW commented that my powder made my face look a tad Brighter (as in Alert and Fresh looking) and I felt that this time round, the face powder didn't seem to cause my face to go shiny very fast, unlike my other compact powder, which is the one SW bought too when she saw me use it. Basically, my other compact powder is Extremely good and the Coverage is HIGH. Like, freaking HIGH. So it can be used alone. But for the Chanel powder, the coverage is rather light... hmm..
I like her top. :)
Read the menu and we both got ourselves The Best Fish & Chips in town! Lol I haven't had one of these in.... ages!
Sweet ain't she? :) She does know how to dress up :P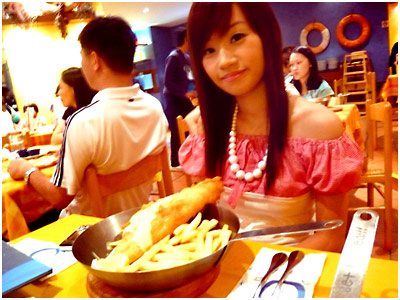 First step of this dish is to... squeeze the lemon all over the fish! Yum yum -
my mouth is watering as Im typing dish gosh this is making me Really hungry~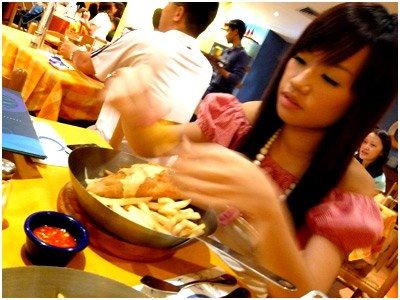 Come on, scooping your chilli one by one from the pot onto chunks of fish using the 'knife' is so
Passe
.. Pour the whole pot of chilli all over your fish and it saves all the hassle! :D
And that's my Cranberry drink! Can't remember the correct name though but it seems to be healthy with Cranberry and other fruit ingredients in it.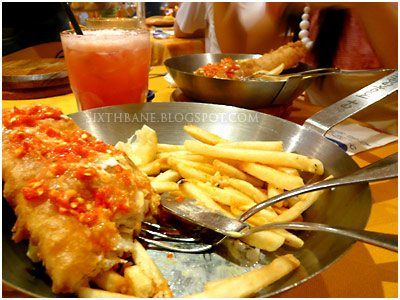 She didn't touch the mayo! Okay I did try but I realised the Mayo tasted Funny. Like it was spoiling of something. Or maybe, its my taste bud that's starting to 'change'.. But hey, we did ask the waiter for MORE and MORE pots of the chilli! Its really tasty I tell you and just remember that you're gonna walk out of the restaurant with garlicky chilli breath! -
not recommended for dates though (imagine the horror of kissing such stinky breath ewww..)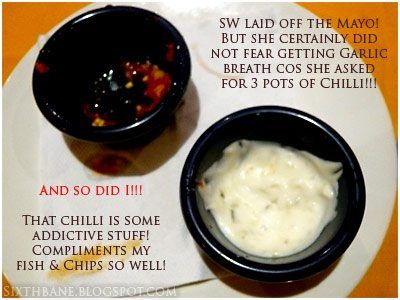 More chilli waiter!!!! One Pot is No Enough! :p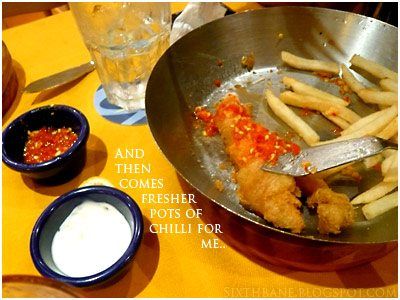 Feel free to eat after asking for a more than sufficient amount of chilli :p Yay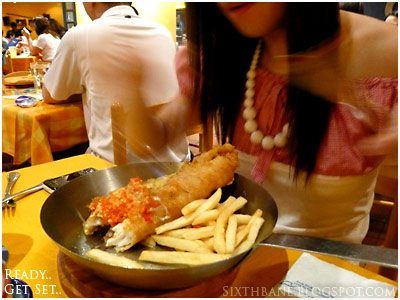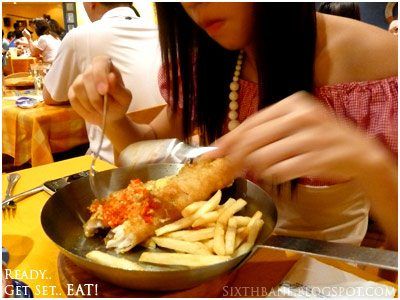 Im almost done! Its so delicious I tell you..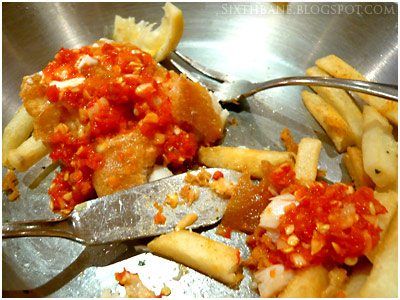 SW is thinking: "Why you take me? I want to eat.."
And voila! I am done.. Look at the leftover chilli muahahah
I am thinking: "Yo you taking me, Punk?" lol just kidding :p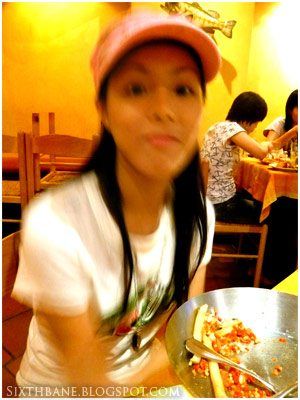 Time to settle the bill.. Counting the change and notes..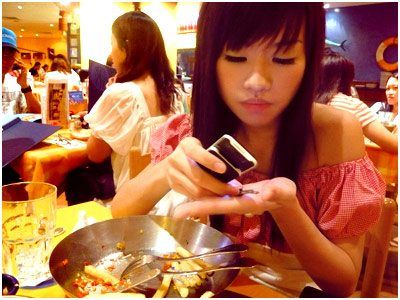 Oops, where am i facing?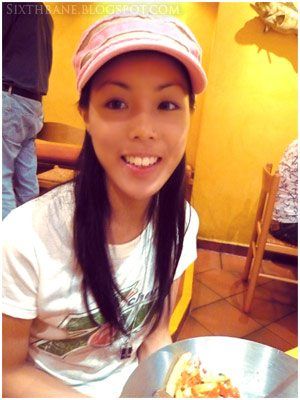 SW says: "So now divide into two plus the drink you had and you have to return me..."
I still think this is better than in colour :)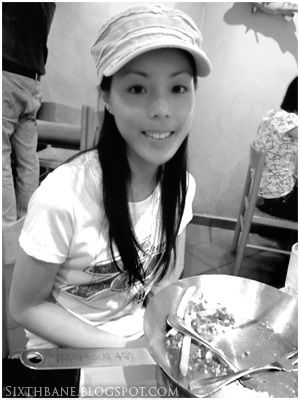 Tatas! Im outta the restaurant!
After that, we went to Mcdonalds.. I tell you, we walked all the way to the other outlet to get Milo (hers) and then it was so crowded that we walked All the way back to where we were (which had Mcdonalds too -.-) So after that, we got an outside seat where it was quiet and we basically chit chatted till 1am plus that day and then this CRAZY guy kept cycling around the entire Tampines area like 15 times??
Is he attention seeking or what?!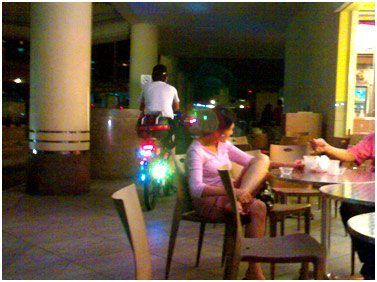 He pissed us off so friggin bad that we wore SO close to putting out legs out to make sure he fall off his crazy brightly lit bike! He was really irritating us to the core. I wonder if he is a Drug dealer or maybe from a Gang or something. Hmm..
And what's left is just
one final entry
(
which is not updated yet
) and I can finally stop talking about stuff that happened weeks ago... lol
-
Big Sushi outing
-
Dinner with SW at Fish & Co.
-
Brought home my new Shopping Loot :D
-
A peek through the Darkest moment of my life..
- I lost my bed so now my Plushie Collection had to be rearranged
Labels: addiction, beijing olympics, bikers, bikes, chilli, chilli sauce, fish, fish and chips, food, olympic toys, olympics, yummy
i bleed; therefore i am {23:50}