♥
Monday, July 07, 2008
Right now, I present to you what happened the week
before
last week. I fell so ill that for that last one week I could do practically do nothing but sleep and take my meds and Hope I get well. And now I am Almost well again. Hurray!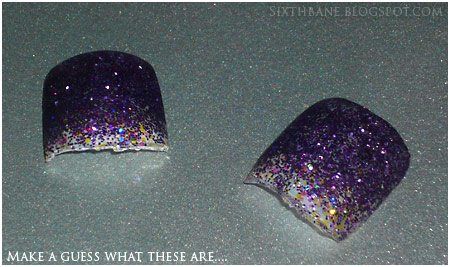 So on that thursday I had Sushi and met up with SW, W, and Shuxian, One of my thumbnail Fake nail came off! Argh. It costed me 260bucks I think and it was so expensive but it lasted me for 4weeks! Not too bad. Sharon's one came off way before 4 weeks so Im quite thankful that mine could still stay intact and fungus-free :D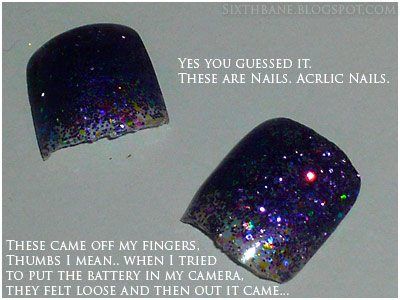 See?! They should still be able to last for for another few more weeks but I guess that would be a little over the top right haha..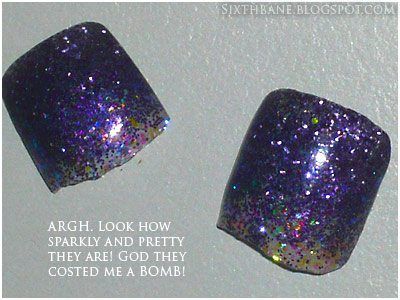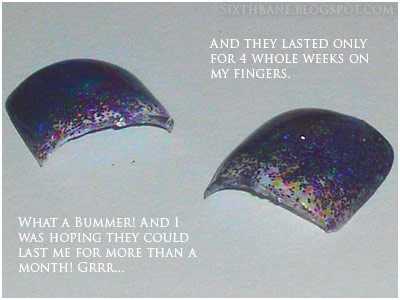 The areas that came off... Looks like real nails doesn't it? :D
Oh yea, now that was some ugly shit.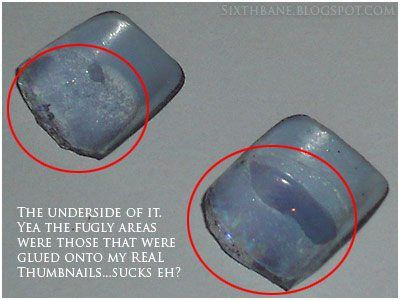 And now I present you my Left thumb. See my Orginal nail bed? All scratched up with the nail glue still at a mess there..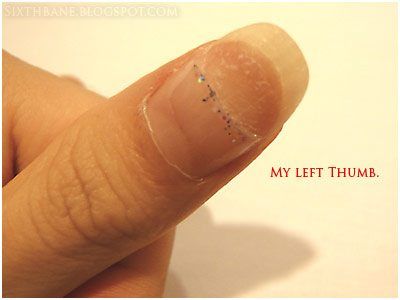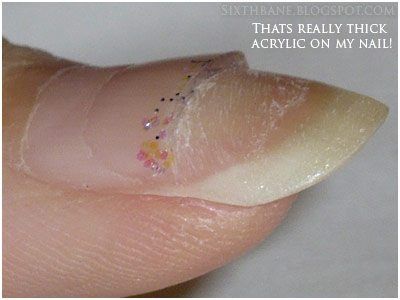 OH god, can you imagine that to do this acrylic fake nails, you've gotta keep coating and coating on the UV gel until its this thick? But it sure was fun watching them do it! (the nail salon girls that did my nails of course!)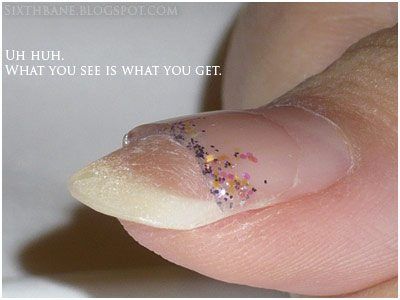 Since both my thumb acryclic nails came off, I decided to REMOVE the rest of them too.. But after a few days passed after having sushi with them on thurs.
(I will update the IMAGES of that Sushi outing with them in my next entry :D)
Didn't feel like Topping up the gel at the exposed nailbed that had grown out as that could set me back another $100, Im sure - Nail Palace really do know how to
squeeze
the money out of their clients.
And just by removing them, they said it can only be done by Filing it DOWN. And I was thinking WTF? Sharon said it could be removed by soaking it in some solution and Voila! But no. Nail palace insisted that because mine had glued on the fake nail tips to my nailbed, the Only Solution was to file them All the way down. I agreed - cos this was my first time and I didn't know what...
And as they filed them down, I thought to myself. Hey, I could just BUY that cheap nail file from them and file it on my own too! But what the hell. and it costed me $70! Just to SIMPLY FILE the nails until All the glue and hardened gel was GONE. Yea and $70 just
flew away
from my pocket into Nail Palace's. Gggrrrrrrr.....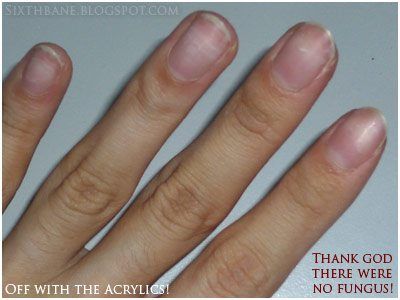 Last but not least, let you see the close up of the chipped off thumbnail acrylics. I picked it up and..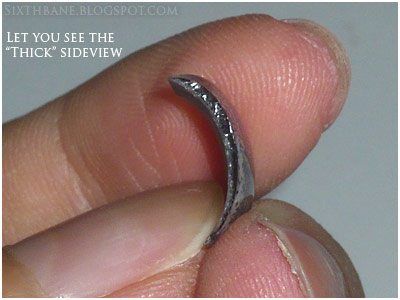 Nonetheless, I would Do It Again in a heartbeat if I did have enough finances to do so again.
Call it being high profile or whatever (as told by Xiaxue in her recent apple review to their inventors) but hey, they are really lovely! And it was nice receiving the attention I got whenever people saw my nails back then :)
And yes I didn't forget. It will be Image Heavy in my next entries coming up:
- Big Sushi outing
- Dinner with SW at Fish & Co.
- Brought home my new Shopping Loot :D
- A peek through the Darkest moment of my life..
- I lost my bed so now my Plushie Collection had to be rearranged
That's all for now, folks! Goodnight!
Labels: beauty, nail palace, nail salon, nails, photography
i bleed; therefore i am {21:58}