♥
Thursday, July 31, 2008
|
|
Playing in Seoul Garden (image heavy)||
Farewell gathering at Seoul Garden!
(image heavy)
That day (last week), we dined at Seoul Garden. I was the last one there as usual and it was really nice seeing everybody again :)
Reached Seoul Garden and whipped out my camera. Everyone was busy grabbing food (and so was i but i took more than enough :p) So now, lemme camwhore for a bit while the rest get their food :p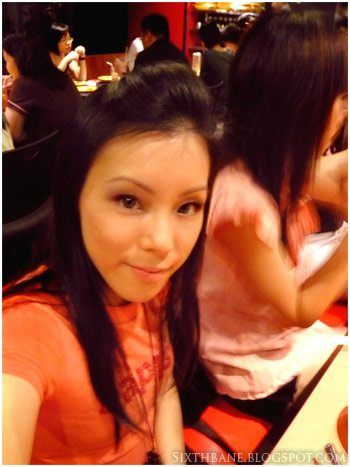 Let's start cooking! I love it! Its just so fun cooking like this together but we gotta be careful of the oil. It hit my hand a couple of times already :(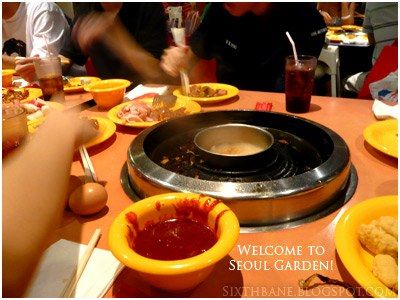 This shot looks professional as though I have a Digital SLR camera - its those big black cameras professionals use which are rather bulky.. Ah.. the wonders of Photoshop :)
Oops, I gotta go cook my food now! Im starved! Wheee~ *scoots off greedily*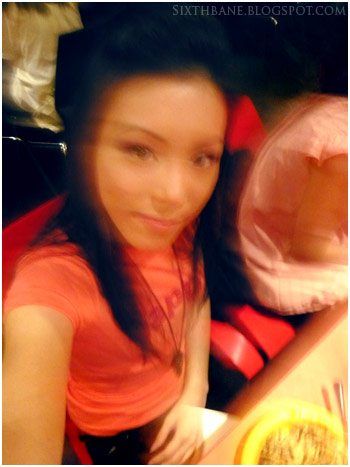 Bleh haha.. Snapped her and she show me her hand instead :/
The guys that came along..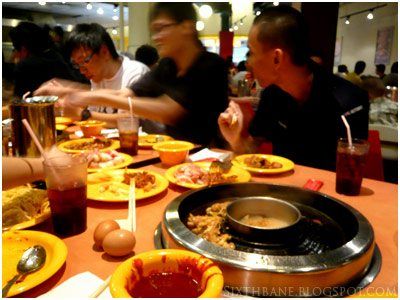 Farewell gathering for the centre guy cos he's gonna be enlisted in the army soon..
Ah, my food is cooked! Don't know if that's Sambal chilli or not but it sure was very hot! (eh cos I was a tad too greedy and took too much chilli on my food)
They were talking about Animal Porn with Caucasians -.- and they were chatting bout the size and length of a horse's penis.. Then as the conversation got intense, one of them said,
"You know horse 'that one' is so long and big right? Then if it poke inside a woman from her vagina, would it
explode
come out of her mouth?"
And then they were doing some funny movements haha especially at the 'come out of her mouth' part. Wahahaha
When all the raw meat were cooked, SW cooked for me Egg noodles! It was a quick recipe she learned from somewhere and who doesn't like cooking? Especially on a hot plate some more?! :D Besides, the recipe is below so feel free to
'memorize'
it so next time you're anywhere near a hotplate u can whip up some yummy noodles :)
And here's the end result, on my plate! All for me! Cos they were all VERY FULL! I swear I ate like a hungry monster on that day.. I could still eat even when everyone else couldn't stuff their faces with food anymore.. :p Oh and the black specks
ARE NOT PEPPER
! They are actually the
black charred stuff
left on the hot plate! And we'll know next time not to overburn our raw meat too much! :p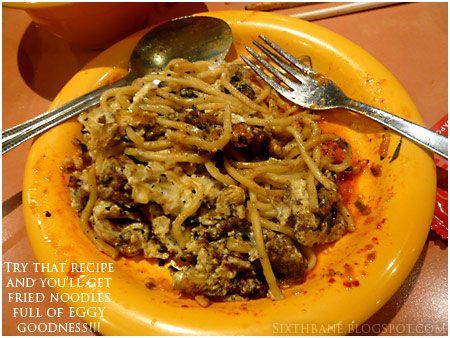 Take a look at the whole mess! So glad we don't have to clean up after ourselves..
The sausages and fishballs were so swollen and still boiling in the pot... We were
so stuffed
that we couldn't finish it, hence, as we left, it was still bubbling, and untouched.
We were thinking of watching a late night movie but W and SY had to make their move so it was cancelled. But onseeing that it was still Early (hey, the night is young), we decided to hop over to Mcdonalds to chill :)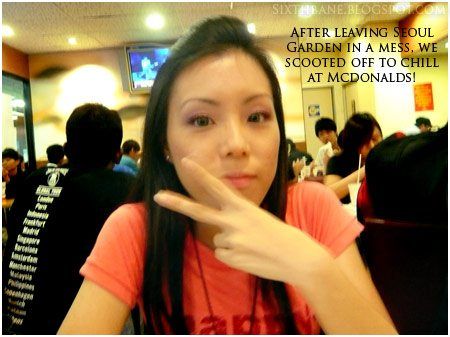 Oh what fun we had :) So many blurry pictures :p
(click image to enlarge)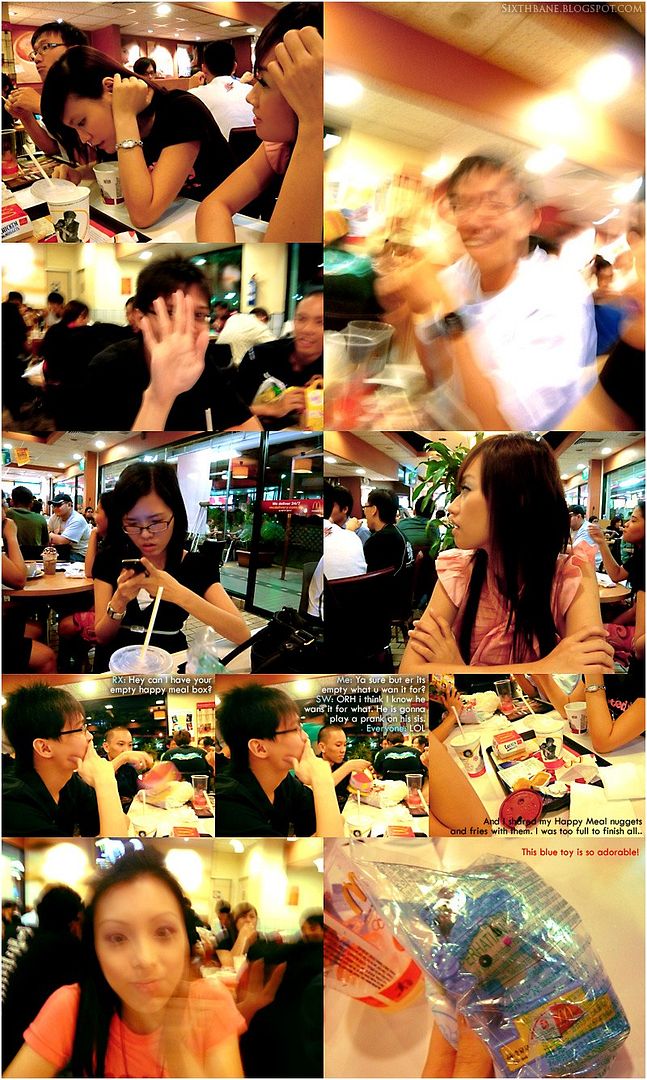 Pose pose :p
:)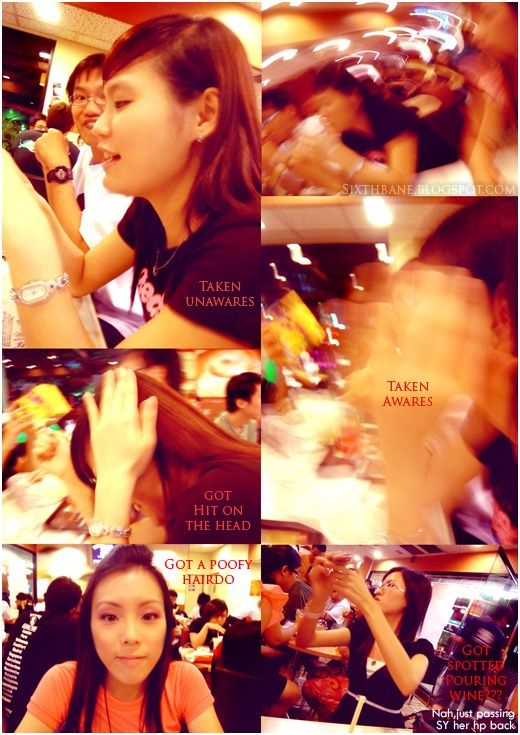 Take a look at the below picture. I wonder what's with the expression on the woman face, behind me -.-" haha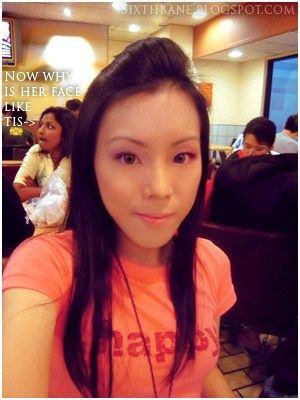 A couple of funny shots SW took of me. And yes she and I were the only Camwhorers throughout the whole outing lol and she does know I like taking pictures so she helped me out *claps hands*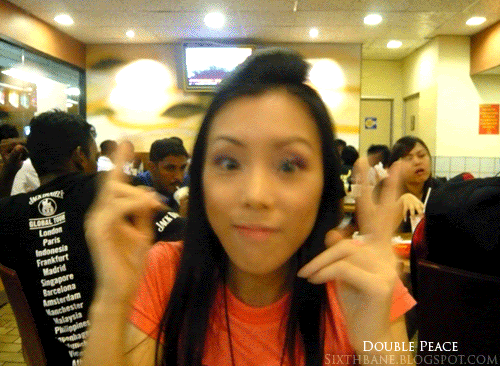 Then we parted ways and I went home. Presenting to you the shirt Im wearing..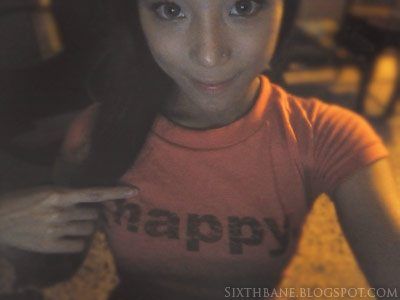 Are you Happy now?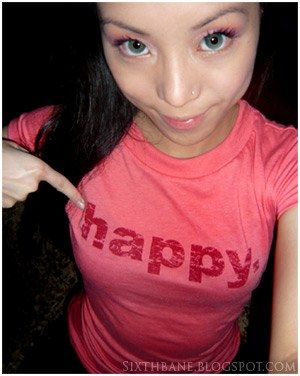 Yes I am Happy and this was my happy meal toy for the
day
night! :)
Whoooo, collect them all! So far collected 3, thinking if I should collect the rest hmm.. It sure does look great doesn't it? :)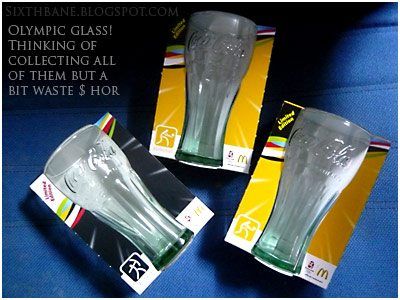 And now I bid you all a Wonderful Goodnight! :d
p.s. i think wordy shirts like this makes a great impression :) any tips of where else i can find such shirts? I bought this from a makeshift stall and it doesnt seem to be where i bought mine, anymore.. :(
Labels: beijing olympics, camwhore, egg noodle recipe, food, happy, macdonalds, mcdonalds, photoshop, stamp
i bleed; therefore i am {02:53}