♥
Saturday, July 12, 2008
I didn't sleep well last night.. The moment I laid my legs down to rest, they felt really sore and aching.. Then, I had to keep rolling in bed to get some sleep.. And that was all because of my new ultra high heels i wore yesterday..
Some random photo I took at Ze's bday chalet at Aranda :)
Today, when I woke up, gosh, the soles of my feet felt as though they were bruised.. And I couldn't like bend my leg properly cos then my aching feet muscles will feel the tension pulling at it and it was pretty uncomfortable..So i guess im gonna stuck with flats for a while..
Afterwards, i went to catch Hellboy 2 movie! :) It was a great show! Some parts made me really want to tear (because the scenes were so moving) *blush*
But when I saw in the beginning when his 'father' told him a story, it reminded me of
The Lord of the Rings
. 0.o Then moving on to the Troll market & when Death monster tried to save Hellboy, it reminded me of
Pan's Labyrinth
movie.. And then there was this big Stone monster that emerged from the mountain, that reminded me of
The Neverending Story
(my favourite show), and finally, when they entered the cave of Clockwork warriors, it resembled the recent
Predator
movie (i cant remember the name though)
Went there with C and O but AB couldn't make it due to work and C and I were basically playing with our food there!
C tried to be creative with the nachos. I tasted it. It doesn't taste like YUCK but I would say, its an "Acquired Taste". Lol
See? Play some more. But I wonder why it didn't give any stomachache to C after all that mustard on the nachos..
Up next, its my turn to be creative with my food! I tried to dip a few of O's popcorns into my warm nachocheese and it tasted very good :) So then I got overzealous and started dropping more and more popcorns into my cheese! :D
But then I realised. It was not a good idea to put so many at one go. Why? Cos VERY QUICKLY, they turn Really soggy.. Then, there were a few times I thought my popcorn was "seedless/nutless" so I crunched down hard and OUCH! My teeth crunched onto the indestrucible seed from the popcorn :( *owwww*
*********************************
Now, im going to squeeze in what happened to me when I was ill and share with you all my shopping loot :)
A peek through the Darkest moment of my life..
For that one week I was ill, I didn't have much appetite and had onsets of fever every now and then so much so that I wonder why sometimes when I woke up in the middle of the night, my clothes would be soaked in my sweat.. Turns out that I got infected by flu (most probably from W when we had the Big Sushi Outing together she mentioned her workplace was down with flu -.-), then my Tonsils got infected. That was what caused my on and off fever everyday and I could only have porridge for lunch.. NO TOMYAM BEEHOON, NO SPICY FOOD, only PORRIDGE :(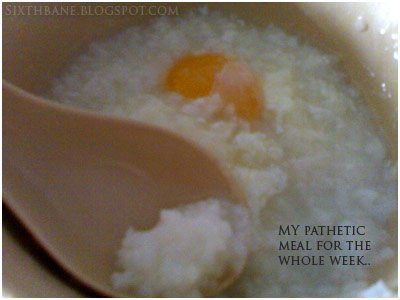 Then the doctor gave me all these medicines. If you noticed, they are all EMPTY? Its cos now, Im fully recovered!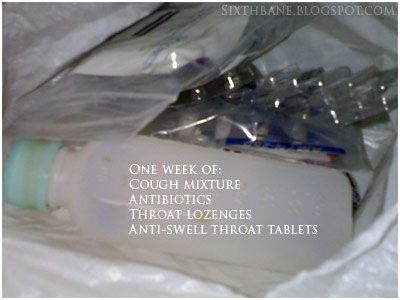 And I gotta tell ya,
im in love
with my throat lozenge. These lozenges pratically NUMB my throat so I wouldn't start coughing like a TB - tuberculosis patient. That week of illness, I was literally Coughing crazy and having phlegm stuck in my throat.. Then, besides the fever and the increase of heartbeat (which felt like the time I had a very bad anxiety attack while finishing up my final yr project), I was quite glad I didn't have much mucous stuck in my nose like what flu does..
When I finished all my medicine, I started to recover, but Very slowly.. And I had "White Mush" (white guotiao soup) as a change of diet from porridge.. This was supposed to be the Tomyam Guotiao but then I wasn't well enough yet so I had to leave out the TOM YAM chilli sachet and substitute it with those Chicken Cubes.. Better than eating it plain right?
When i've recovered completely, I was craving for some foods! Like tomyam noodles, Laksa, Fish and chips, Fried kuay tiao, and egg prata! But then I was afraid the rest might upset my stomach? Cos its either too spicy or too fried. So I settled on this: (yes I know its oily but i have to eat right? :D blah haha)
This curry was really chunky.. itwas kinda grainy actually..
Its EGG! Its PRATA! Its CURRY! Its LUNCH!
********************************
Brought home my new Shopping Loot :D
This new blusher is definitely much lighter than my other one and this gives me a fresher blush look too :)
Im addicted to these lately :)
Yakult or Vitagen, there's no difference to me, but it tastes great!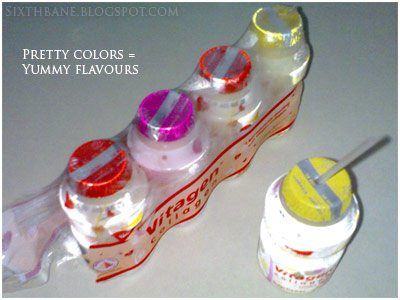 Oh and this was right under my nose! I walked past this shop a GAZILLION times but NEVER spotted it! Why?! Cos it was so tiny!!!! It was locked away in the inner corner of the glass cabinet! So happy to have found it! :D They had Domokun toys, Some carebear limited edition softtoys stashed high up on the shelf (almost nearing the ceiling), carebear Hand puppets (maybe im getting this next time if i have enough $$ ) and they had small Gloomy bear toys (which I didn't buy that day teehee but im looking for the original
PINK
color Gloomy Bear plushie.. which until today, cannot be found anywhere! :( ), they also had sponge bob square pants merchandise, and nightmare before christmas items and so much more! :p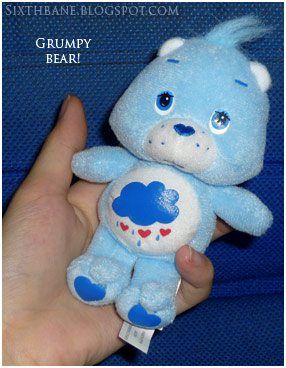 Take a look at the red heart.. After I bought mine, I realised my small True Heart Carebear had Words written on top of the red heart so im wondering if this Grumpy bear is the Authentic version or not? Hmm..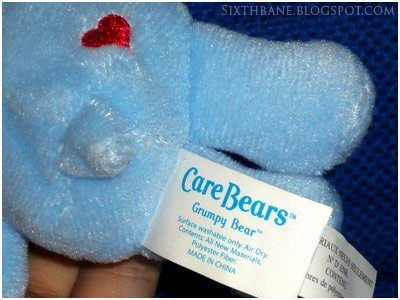 Cute Grumpy Carebear..
Oh oh after I saw SW have her other Domokun pouch at the event we worked together before, I was tempted into getting one for myself too!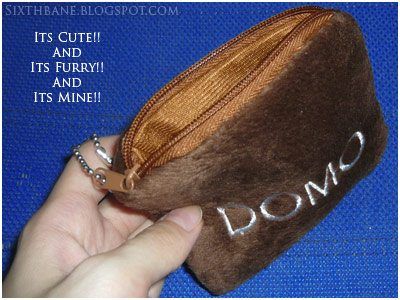 Putting them together makes them look so adorable, no?
Oh yes, this is the last toy im collecting under the Panda movie collection.. Think im not going to collect tai lung anymore cos I think he cannot do anything - eg he just poses and canot move on his own i guess? Unlike shifu, he can walk tiny steps! Hehe
And yes! This was what SW had in her bedroom :) And so I got one for myself too! So cute la! But after I got this, I was ill with the flu.. I didn't dust this enough when I opened it so it could have given me some mild asthma and worsened my flu? Hmm..
Take a look at my Special Carebears.. I call them special because the two big ones were given to me as gifts while the small white one was bought in the same shop with bleeding beauty's elephant carebear, and the smallest one is the recent one I have..
Take a look! Grumpy bear is so small! Oh my gosh!
Domo feels Lonely! He wants to play with The Carebears! Wahahaha!
And now that Ive managed to post these up, up next is:
-
Big Sushi outing
- Dinner with SW at Fish & Co. (will post this up in my next entry)
-
Brought home my new Shopping Loot :D
-
A peek through the Darkest moment of my life..
- I lost my bed so now my Plushie Collection had to be rearranged (this will have to wait for a bit ;) )
Labels: care bear, carebears, food, great singapore sale, gss, shopping
i bleed; therefore i am {23:37}