I still have Loads more pictures and stuff to blog about! But that will have to take some time >.<> so whenever I can now, Im gonna start making time for myself.. I used to like being "unexposed" to the outside world until I realise now how wonderful the outside world can really be and how much of a "Country Bumpkin" I pretty much was. I feel like a tourist even now and when people tell me of a place
I've never heard of
before, but
is heard of by Everybody
else, it makes me wonder and think twice about what Im doing to myself and to start Stepping out and Explore more..
So here I am now, trying hard to keep up with the times. At least right now Im thinking slightly more positive towards things and expanding my sights further.. I don't want to live in a tiny fishbowl anymore.. I want to live in somewhere bigger~
The wind runs throught my hair~

Today the sea was a great big green and the sky was of a medium blue.. Really beautiful.. And it was pretty windy today, great weather :)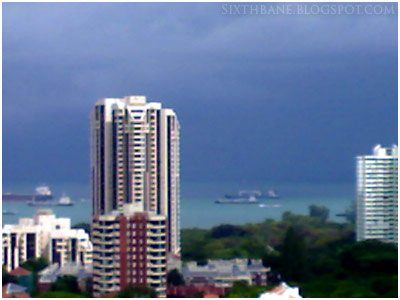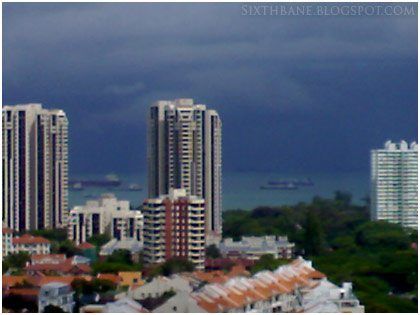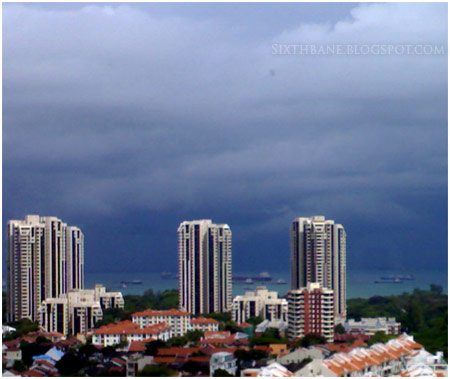 *****************************
19 July

Went out and met up with Bunny and she was so nervous as usual when she saw me! And I must say, I was a TOTAL KLUTZ the whole day!
Vga shots taken using her LG Viewty handset.. I still think my VGA and 2megapix camera is better :P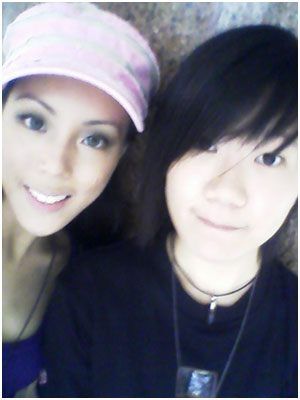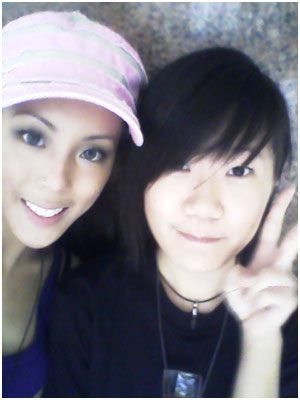 First off, I managed to swipe her out of her workstation and then we headed down to mos burger! Whee~ Hmm she treated me to fish burger meal and clam chowder soup.. :)
She went to order and I had nothing to do while waiting so I camwhored for a bit :p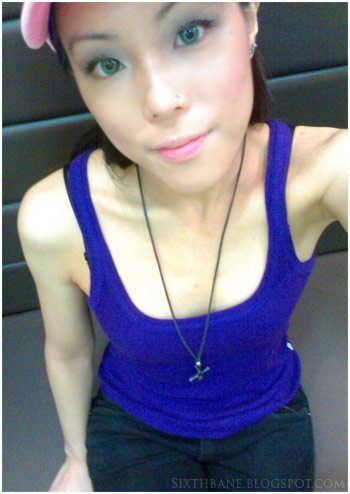 She came back with the food tray and my soup..and just as I was multitasking (tearing chilli packets and getting engrossed into the conversation), the clamchowder soup that was placed on my right, SPILLED!
What happened was, I didn't know that the final chilli packet wouldn't budge SO, I used all my strength and POW! My elbow smacked my cup and it toppled my soup! Argh... There goes my lovely clamchowder soup.... sianz. Then the side of my skinnys were splashed slightly with the soup and my flats too.. Didn't manage to get a picture of the whole mess on the table and on the floor but I was quite apologetic to the mos burger lady la..
She kept looking at me and didn't stray eye contact with me the whole time and besides, she was middle aged? Maybe she thought I was ericia lee or something cos of what I wore that day.. lol then she was the one who served us our set meals and also the one who cleaned up the mess.. So paiseh..
I love this shot the most :p
SW picked this top out for me and I got it at a bargain! lol But hey, I never knew I could look this nice in a tank top.. Since Im mostly in shirts or 'covered up' most of the time.. Lol..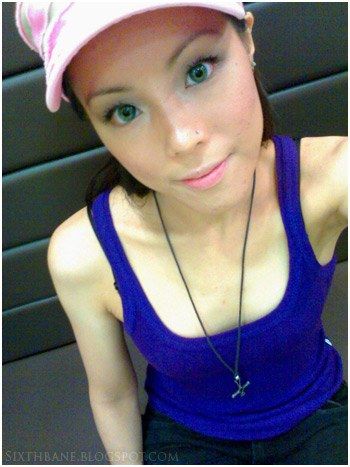 Inverted crosses are such love - Don't believe in God. Believe in Yourself.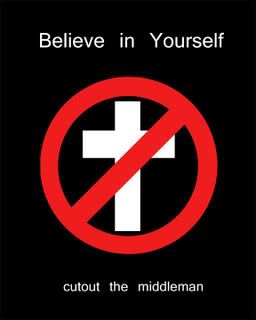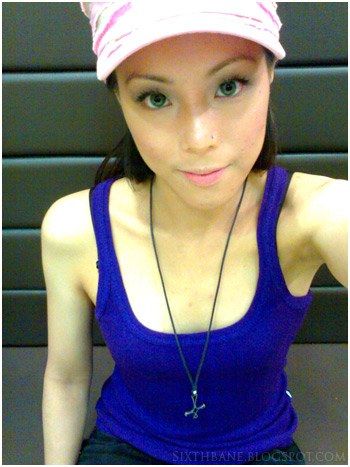 Yup, Im wearing an inverted cross :P and then Bunny and I changed seats to the next table beside us, which was definitely much, Much cleaner.. And continued eating..
So that was our dinner together and after that, she went back to work and I decided to go shopping for a bit..
I headed down to PS and all for...this.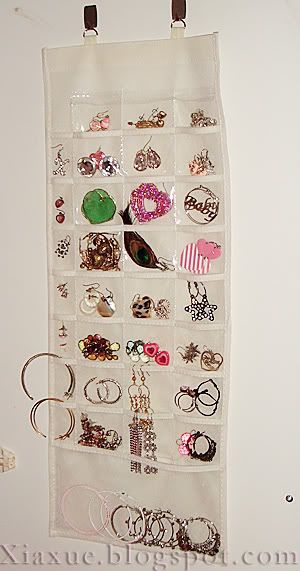 Xiaxue was blogging about it and hey it looked not bad but by the time I went to Daiso and spent like 3hrs+ there
(i know how to take my own sweet time don't i :p)
I still couldn't find it! So I finally asked the assistants there and she told me its Totally Out of Stock! OMG. I guess once xiaxue blogged about it, almost the whole of singapore (maybe 50,000 people, ever since she gained high viewership with her nemesis - dawnyang) was hunting it down and worst thing is, there's no news if there will be any stock left for it so.. Gotta wait for a few more weeks again! Or try other outlets! Grrrr...
So in the end, after strolling about there for so many hours, I settled on 3 items. And I got a a nail clipper from there hehe Pathetic ain't it? Haha window shopping is great -.~
It was 9pm and just nice, Bunny's work ends at that time too! So what did I do? I called her up immediately and suggested to meet AGAIN, for movie! Since I was at PS, there was the cinemas there and she was very surprised that I sprung this 'sudden' movie meet that late at night! Well, she was fine with that and I got two tickets for The Dark Knight: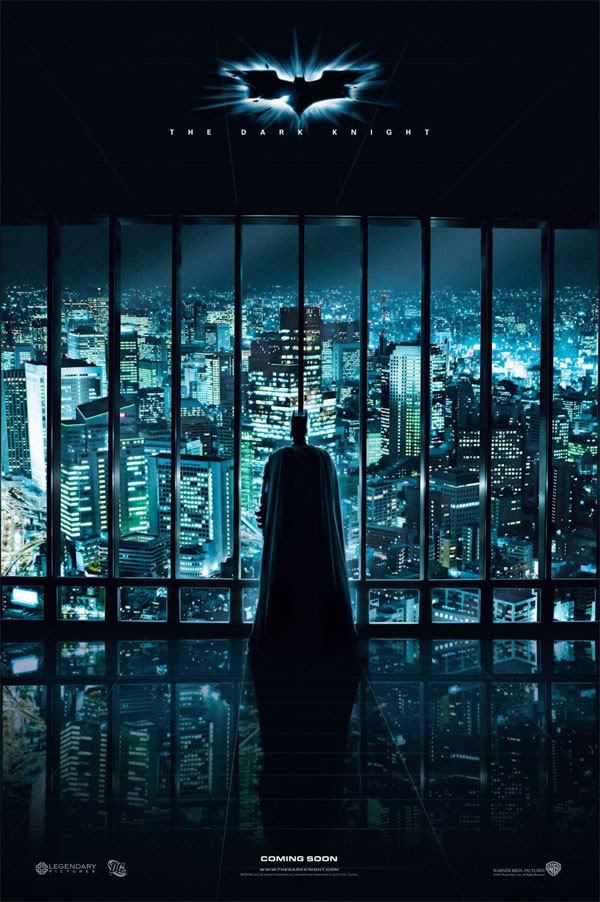 Then while waiting for her, I spotted this funny movie advertorial signboard!
ERP
EPR = Every Price Rise . lol what ever will they think of next?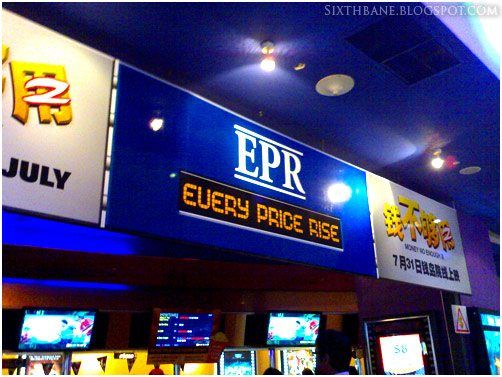 Bunny finally came and got Nachos Cheese set for herself and as for me, I got myself a bottle of mineral water and Cheesy Sausage! :D I used to get hotdog but it was pretty late at night and a hot dog would definitely make me feel bloated.. So I had to choose something light..
But hey while we were watching movie, she shared her chips with me! Aww.. ain't that sweet of her.. And when the movie ended, we rushed out to take the lift! To go to the other floors of toilet.. Cos everyone practically flooded the top floor toilets! Argh. Oh and it was 1230am when the movie ended and there were still Soo many people entering the cinemas! Woah.
But well, I do miss midnight movies, its pretty fun, cos that's where lots of people (strangers) gather together at the dead of night to watch a movie or for those clubbers, they would prefer their 2hours worth of nap in the theatre :p
All I can say was, the movie was Awesome. Heath Ledger really lived up to his name and Im guessing that they wanted The Joker to continue in the next batman movie cos The Joker didn't die in the movie but only Two Face died. :/ But it is such a pity that Heath Ledger passed away.. Cos he acted really well as The Joker (all crazy and mental) and the cool scene in the show I really liked was the batman motorbike, where he was running towards a wall and he could actually flip himself the other way around! COOL SHIT! :D
And yep, the speeding scenes were awesome and so was The Joker's evil plot. There was one sentence I like in the show and it goes like: "Some people do bad things for Money while some do bad things to see the World in ruin." Something like that la, I can't remember it exactly :p
Then as we parted ways at the taxi stand, I got on the cab alone and she went off on her way too.. And I was bored, sleepy and really tired..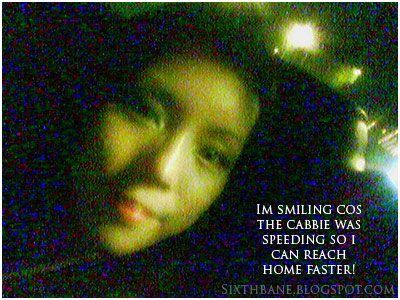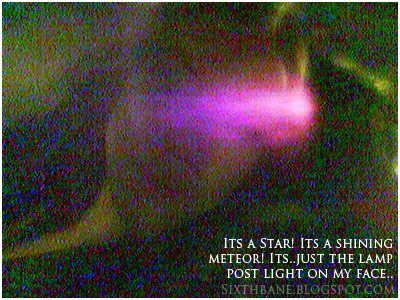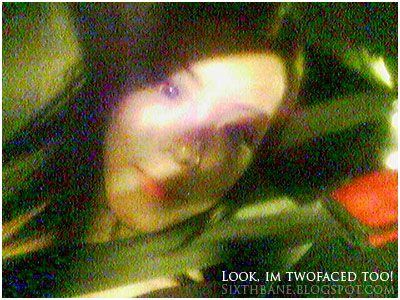 I've been typing this and editing the pictures along the way and its now 5:24am gosh! Plus, I need to wake up early tmr.. So I have to turn in for the night now.. YAwnzzz....