♥
Wednesday, July 09, 2008
The Big Sushi Outing that dates back er.. before last week? haha
(extremely image heavy)
(click to view bigger image)
Shuxian helping me and SW to scoop the Wasabi.
Woohoo Chawanmushi!
Yeap, how could we resist Salmon Sashimi in a sushi restaurant? :)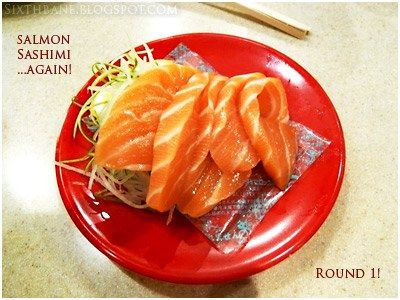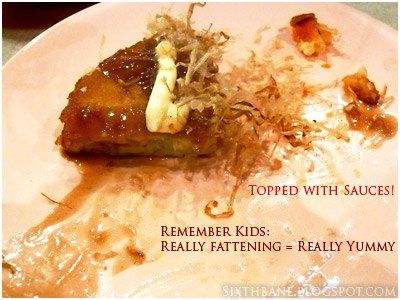 Okay so W wasn't here yet so we took some pics :D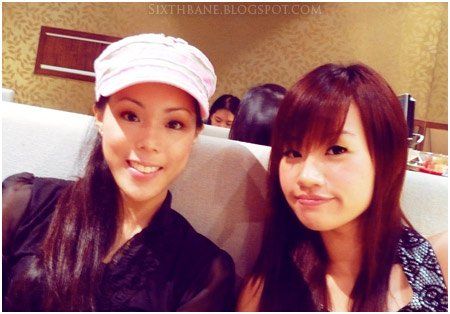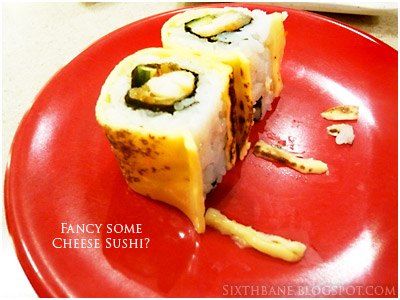 Candid shot. Nice a not SW, hehe if you like any of the pictures, let me know, I'll email them to ya :p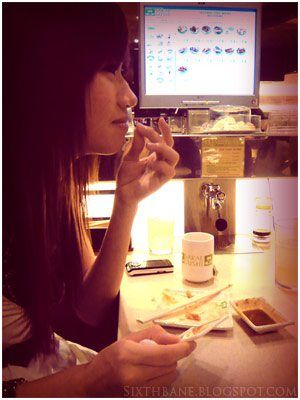 This sushi looks so lonely.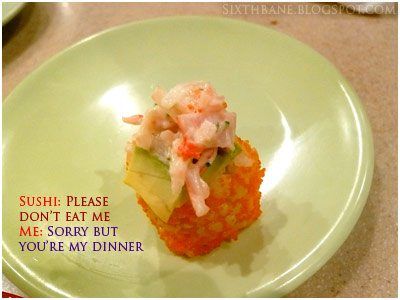 Woo I like this :)
Prawn head anyone? Somehow, we tried avoiding the head cos obviously there was no meat but I wonder who took this prawn head sushi.. Haha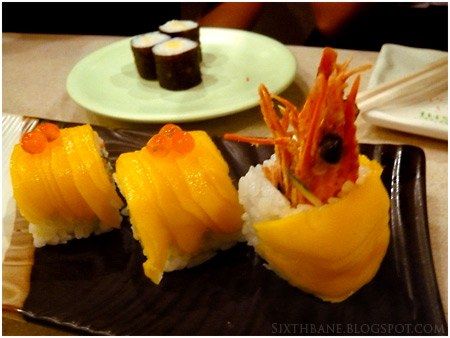 Oh what happened? One is missing!
Yup, I took it, this is Mine now lol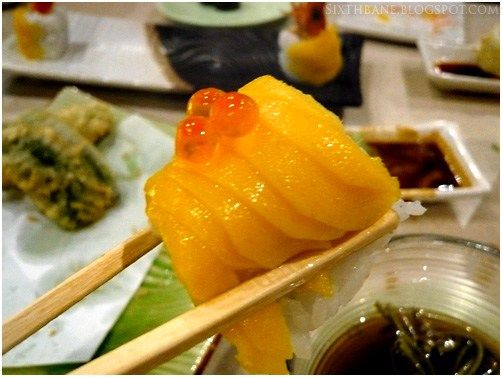 Not too bad, mango flavoured sushi with the roe on top
Snapped it up in a sec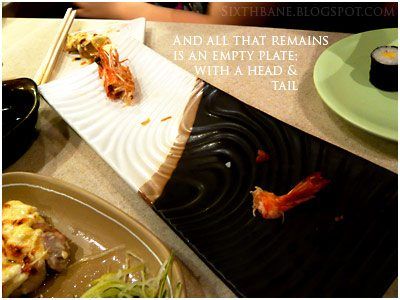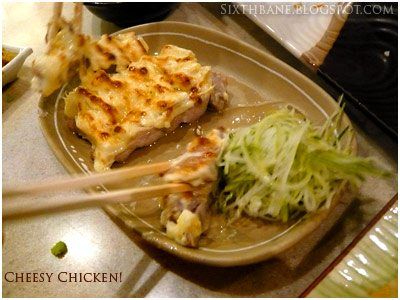 Lets go GREEN.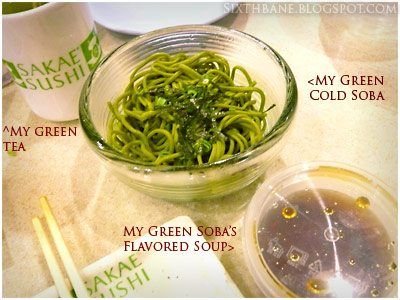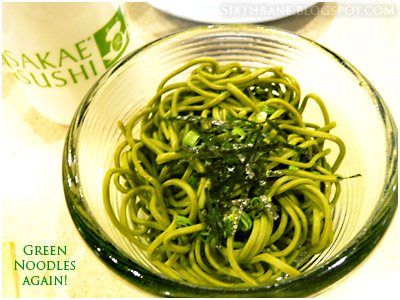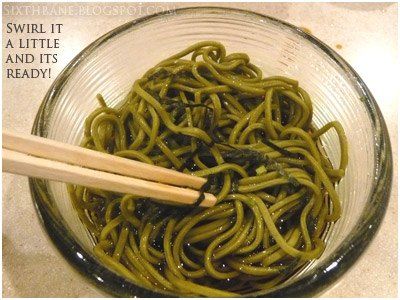 Next up, its this Fried crispy sweet potato! Couldn't find anything I like from the fried stash so.. I took this instead wahaha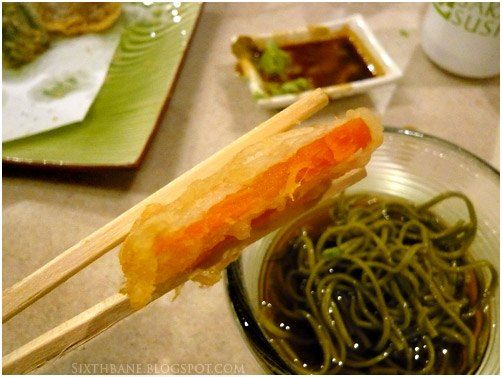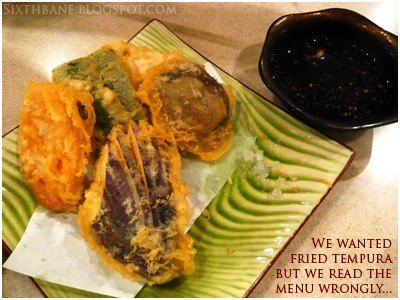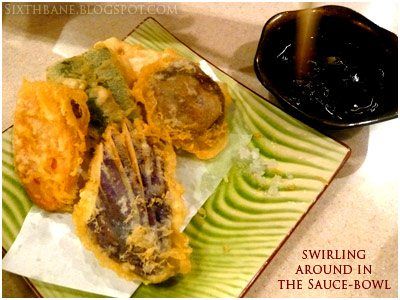 After a while, my cold noodles were finishing..
And I got real Bored.. I thought it would be a Phototaking day but why they all wanna talk about their Work stuff instead..? Such a bummer.... But no fret! I can take pictures of myself yea? See what I mean?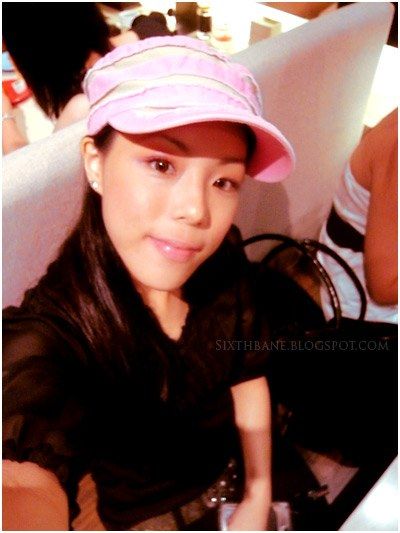 But we were still not full!! So we ordered more food!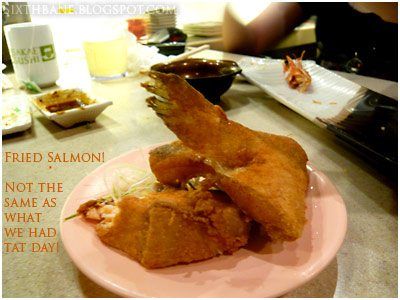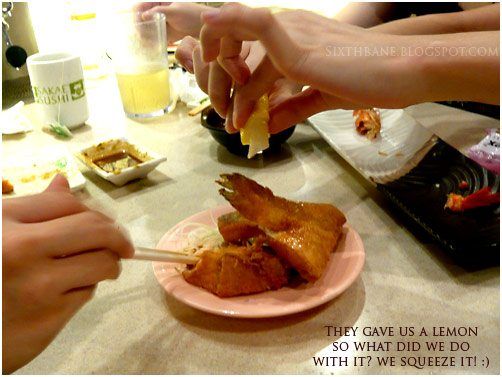 Squeeze squeeze the lemon some more
I solely declare that this is MY next favourite!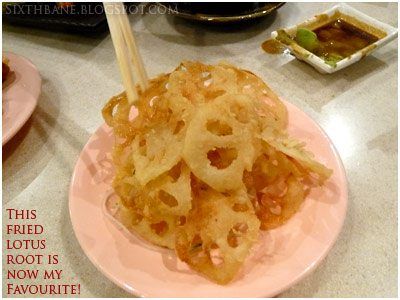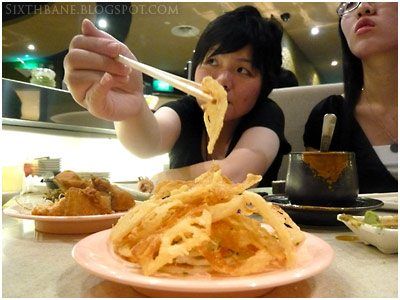 Do you know the RED plates costs so much more than the other colored plates?! And goodness, we were blinded by the Delicious Sushi to notice the plate colors.. Tsk Tsk.. See what the sushi made us do?
SW said, "If you ask them take group photo, they will Refuse de, so, you must 'force it' on them". I SO AGREED. So SW & I asked the waitress to help us snap a photo. And thats how you get to see this Group shot over here! :D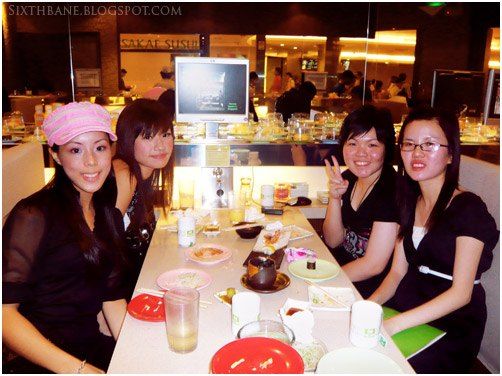 At the end, the bill amounted up to $90 over. OMFG. Im so glad that there were four of us!
But thats not all.
We headed down to the cafe to chill, stone, and chit chat some more :)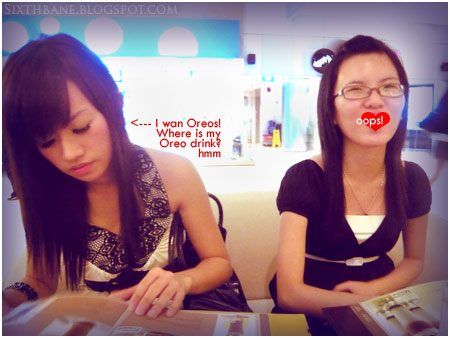 Our drinks! Aww man I wanted my liquer coffee but so expensive! :( Anyone wanna buy me a drink next time? As I said, Im a Proud Alcoholic! :p
(click to view bigger image)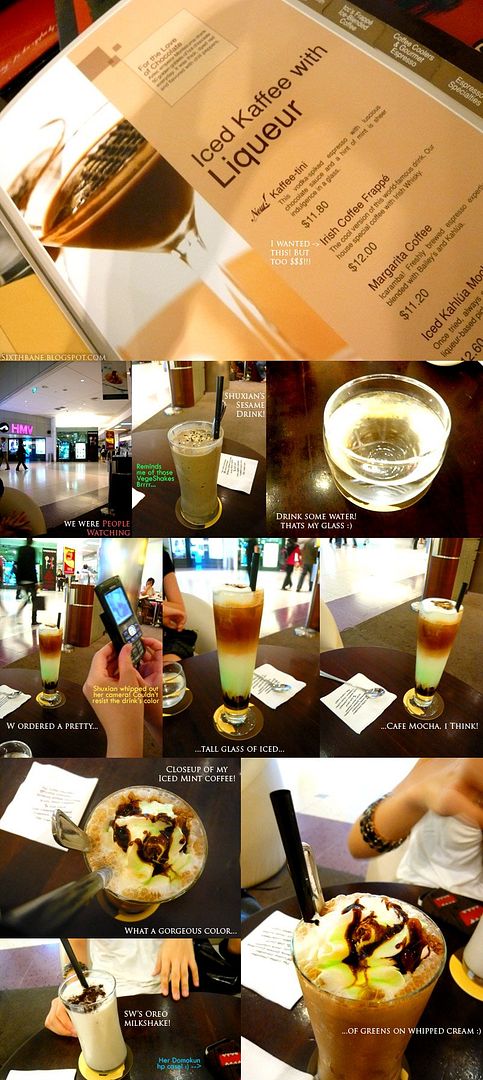 Well, then we snap snap away and not that im lazy thats why i Squeeze sooo many pics into one big image but cos Im afraid this entry may exceed the bandwith or something and the rest of my blog entries cannot be shown 0.o
(click to view bigger image)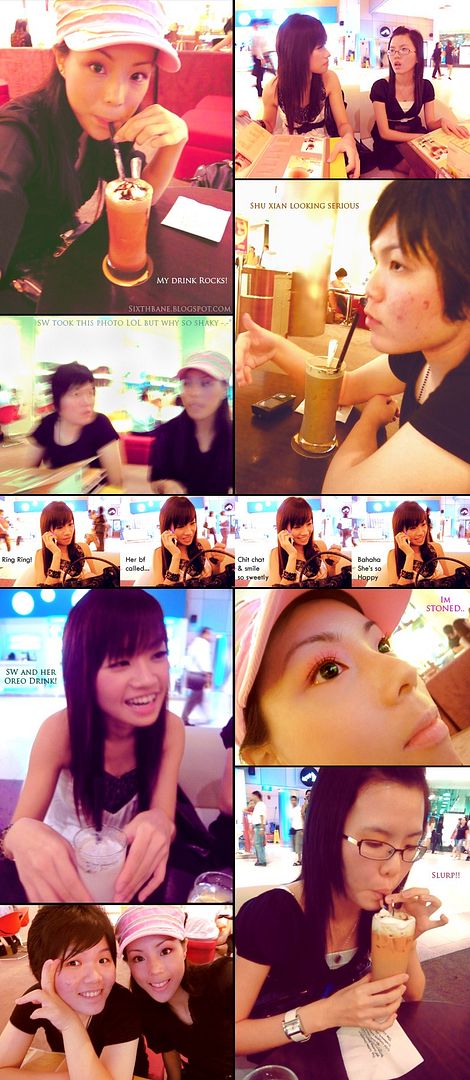 And I tell ya, when I whip out my camera and snap away at food, and then at people and then at myself, it means IM BORED. And I feel at times that when I dress up so nice and what the hell, frens don't wanna take pictures or camwhore with me, it just makes me feel kinda MAD inside.
Cos hey, I took the effort to dress up nicely to meet up after like SOO long.. And then no Camwhoring?!?! ANd i didn't come to hear so much about work problems and stuff like that. I came out to have fun, take pictures and just have fun. Now why can't they understand that..
See?! Im camwhoring with MYSELF. Why? Cos nobody is interested on camwhoring with me. Argh.
Alright and this Sushi entry comes to an end. Like finally managed to blog about this! And up next, look forward to these
image heavy
entries:
-
Big Sushi outing
- Dinner with SW at Fish & Co.
- Brought home my new Shopping Loot :D
- A peek through the Darkest moment of my life..
- I lost my bed so now my Plushie Collection had to be rearranged
Goodnight!
Labels: cafe, camwhore, coffee, cold soba, food, happy, narcississt, salmon sashimi, sushi, yummy
i bleed; therefore i am {21:19}