♥
Wednesday, May 28, 2008
You wouldn't have guessed what I made Sharon do. :D
We did something to ourselves today which we may
regret
, cos it was done at a
pretty hefty price
.
Curious to find out more? Wait till you see the pictures we took on impulse.
Check back at
1am May 28
. You'll see. *winks*
Are ya thinking naughty thoughts now? Don't get yourselves all too fired now, patience will give you all that you deserve(or at least, pictures to satisfy your inner curiousity ;)
P.S. reason for the delay is, my computer just hanged and ALL the files i've edited AND resized, were reverted back to its
original form.
Its too late to redo EVERYTHING. So Im gonna leave it to later on.
I need my sleep; beauty sleep.
Goodnight. Thanks for all those who waited up tonight. IT fair is coming, guess its time to save up for a BIGGER external hard drive for all my photos & crap. :)
Entry ended on: 26 May 10:32PM

********EDITED********
Alrighty then, it is now 28 May 3:29AM !
I know I was supposed to update at 1am and judging from my counter, only 2 visitors actually dropped by! Kudos to them!
So I was resizing the pictures and of course, not to mention, I HAD to put my copyright label there. You don't know if there could be Nail Salons who are actually interested in my photos and claim it as their own (maybe by putting the photographs in their shop as part of their nail catalogue!)
So what did we do that could cause regret afterwards?
We did this.
Okay, not the facial expression but Acrylic Nail Extensions yo! :D So happy and guess how much it costed. Not SGD100 but SGD200++ ! I wanted to add 3d nail art too but that would cost an extra 100bucks! Goodness! And yes, it is
pretty
VERY expensive cos it was done at
Nail Palace

.
Their prices have increased 'tremendously' ever since the GST hike! (roars in discontent)
Wanted to do it ever since I saw Ayumi Hamasaki's manicured nails, full of glitter, diamonds, and nail art. And then Xia xue did hers too. So these has been on my mind for a long time, not to mention when I saw that Bleeding Beauty did hers too! But overseas nia.. so it must have been definitely cheaper! After doing this, I realised one thing. I could have asked her to help me, pay her too, since she worked as a manicurist before but I didn't ask her in the end cos the uvlight equipment, she may not have :b
So glittery! So shiny! So smooth! This is Mine!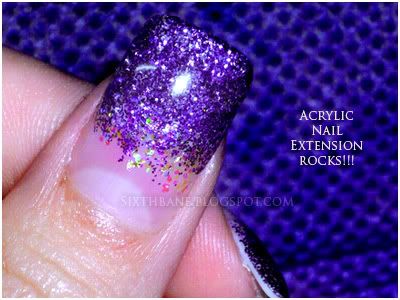 And these are Sharon's! Matches the color of her Pedicure she did together with these.. And yes, you could guess that it costed close to SGD300 for hers ~ sorry sharon, it seems as though everytime we meet up, after a VERRRYYY long time, you're always spending so much money :p maybe im bad influence ah? Always tempt you go buy stuff :P hehe~
If only these costed the same for a Normal Classic Manicure session, that would be AWESOME! Well, whenever I painted my own nails (with base, color, and top coat), they never lasted me after the 2nd day. And, i had to constantly worry if the color would chip due to my
long
bathing sessions in the bathroom. (i like to take my time okay, its Very relaxing for me, like a personal spa in the bathroom :p) Or, if I
tried
to bathe a little faster, would that save my nail color from being 'washed/chipped' away.
But this! Its a whole brand new thing! It was my VERY first time doing NAIL EXTENSIONS and before that, I never touched those cheap plastic fake nails as I had worried that even after removing it and dipping my fingers in the contact lense case, or in my eye when removing my lenses, some glue residue could contamintate it. And i am talking if I had washed my hands & nails 3times prior to removing/putting on contactlenses.
However, this made your nails feel like glass nails. Reminds me of Interview with the Vampire movie in 1994, adapted from Anne Rice's The Vampire Chronicles book; Interview with the Vampire Vol. 1, there was one part in it where they mentioned that the
Vampires had
glass
nails and a gleaming stare...etc.
And if you saw Interview with the Vampire movie, there was a dining table scene where Brad Pitt put both his hands up and you could actually see his nails Shiny,
like glass.
Besides that, these acrylic nail extensions, or acrylic gel extensions, I don't know whats the correct name for it but, all i know is, this is my second day of it and it feels like my own nails. Also, no matter how it interacts with soap/my long bathing timing, it still LASTS and it still looks FRESH! Yea man! :D Im so happy about it! Lastly, i could remove it 3weeks later, or fill in the exposed nail bed when it grows longer. :D
Usually, for my toes nails, i needn't worry much about them and remove them after 4 weeks and their chipping isn't as bad as when I have nail polish on my fingers after Day 2 ( i told ya they don't last on me, remember? Read above.) So now with this Acrylic nails, they are very hard so I must take care if Im doing anything labourous cos if I knock Very hard against a hard surface/not careful, my entire nail bed could Fall off! Or, cause a slit in the Middle of my nail bed!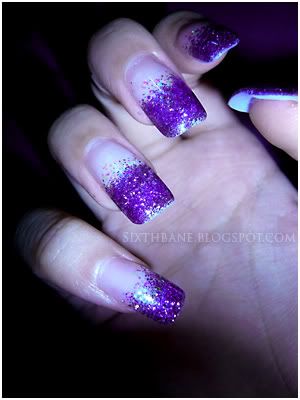 Close up of the nail color and glitter :d Wheee~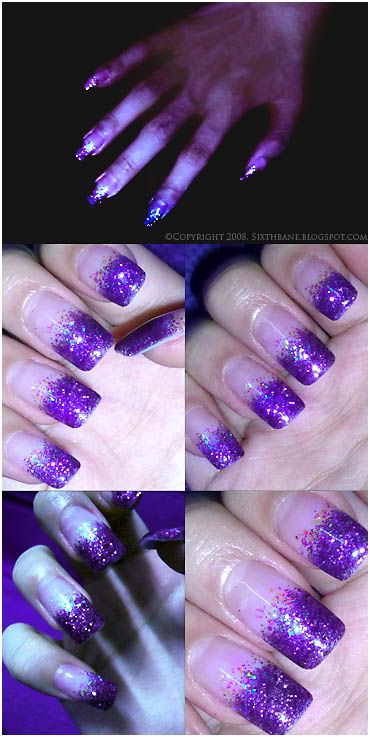 So I was getting fancy with the camera and snap snap snap! Mood shots!
(I strongly believe some dingy nail salons who does these acrylic extensions, will steal my Nail Photos and use it for their own, without giving me credit for it! Hence, I added my copyright label RIGHT on top of the main image - which i dread cos it ruins the entire outlook of my photos..)
Im not being hao lian or anything but if you can't stand it, you can just leave. This is my blog, im free to express my thoughts~ :D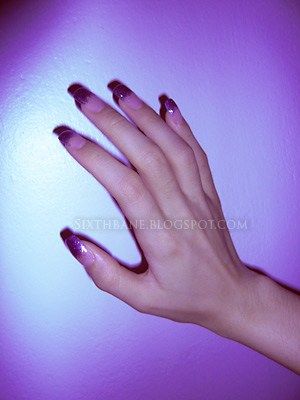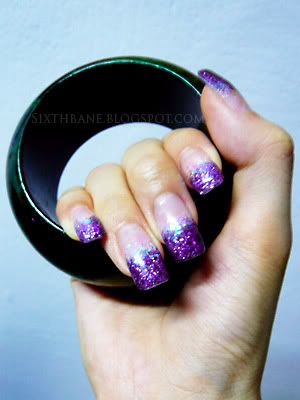 Last but not least, i camwhored lots with my nails. I'll have to resize them and add copyright labels as usual. So be prepared for the Serious Image heaviness over the next few days!
That's all folks; for now!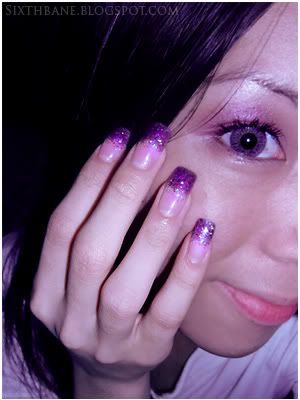 Good night! :D And girls, go get these nails done! So Kawaii, So lovely, So long-lasting, So shiny, So gorgeous, blah blah blah...etc. You know what I mean ;)
Labels: anne rice, beauty, extensions, glitter, manicure, mood photography, nail palace, nail salon, naughty, regret, the vampire chronicles, vampire
i bleed; therefore i am {03:29}