♥
Wednesday, May 07, 2008
Today still, I can't forget the item. Hence, Im going to decide
really soon
when Im going to drop by to buy it from the boutique.. Or, get it as my bday gift..hmmm....
Im feeling much better. Talked to sharon on msn yesterday and she kept emphasizing to me that more sleep is better. Helps prevent suicide on the mind. :P thanks for the tip and yep, I did have 1 hr more of sleep and Im still feeling sore and down but not so intense as yesterday....
To start of, SW was coming back to singapore. And bleeding beauty mentioned before that there weren't anymore Absolut Disco! :( sobs.. SW double confirmed it for me and the SA told her that the limited edition line stopped during the first 2 months of launching it in sg. Fuck.. Which means that by march this yr, all these bottles were COMPLETELY SOLD OFF!
If you want me to compare receiving a branded bag for SGD4k, against receiving an
Absolut Disco
of maybe SGD100.00, I tell you, I CAN FORGO the 4k bag as my bday gift, for this Simple Absolut Disco! When I set my eyes on something, no matter what it is,
I will go to extreme lengths
and decisions to get it!
Yes, I am that crazy when I really really want something!
Here's what the Limited Edition 2008 Absolut Disco is!!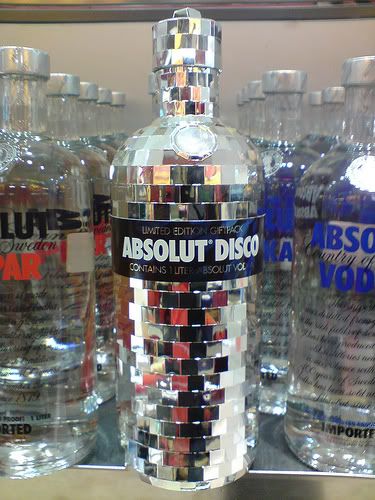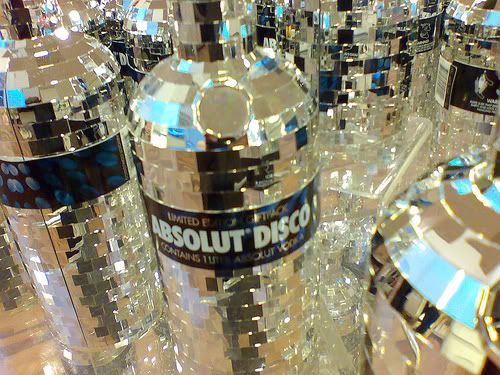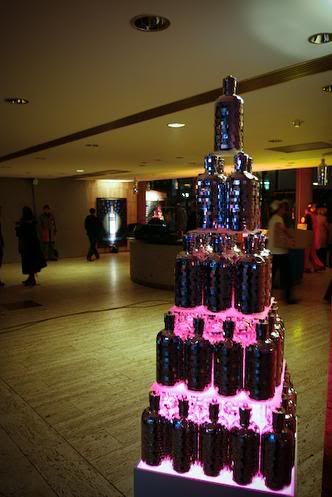 Now, why did the DFS in orchard lie...and even assured that it could be ordered and shipped to the airport, so the next time the tourists come visit SG again, they can have it.. SIGH!
Therefore, if ANYONE, friends, can get it for me for my bday gift, let me know??!?!?! I tell you, I will be the HAPPIEST girl on the entire world, jumping for joy like a mad chipmunk :) And eh, if can, of course I would love an UNOPENED bottle but if really cannot achieve that, then I don't mind even if its empty without vodka! I just am CRAZY over this bottle............
(and i wonder if it can be bought online..? hmmmm~)
I got a call from SW, asking if she could me me straight, like 11pm at night, to hand me my BIG ORDER~ I said okay so I waited at the groundfloor for her to arrive and well, there were 2 sweet looking cats that walkd towards me, out of CURIOUSITY i guess haha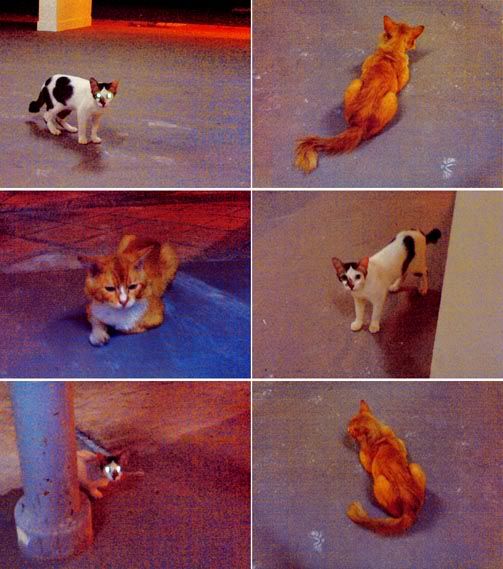 Wait wait wait and... there she was! I happily lifted the HEAVY load from her and I passed her the money. She made 40% profit from me, on top of the total costs of the item ;) I told ya i'd go to lengths to get what I want and, this wasn't made available all of SG, but only in the Airport!! Grrr~ And well, $$$ makes the world go round *hint hint* so GET ME AN ABSOLUT DISCO PLSss~
Took them home, and counted my stock :D:D:D haa Voila!
Ooo, an Empty space, it looks pretty empty right, so, lets fill it up!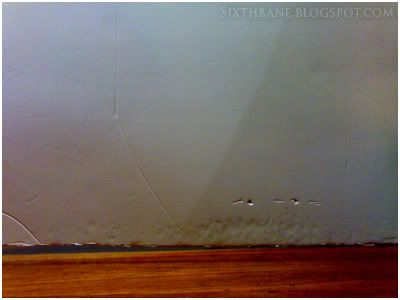 With ONE Absolut Pear bottle..but its still plain so...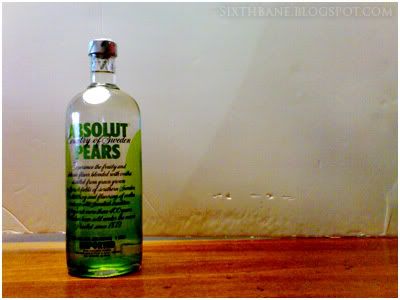 Add another bottle in the picture and now there's TWO!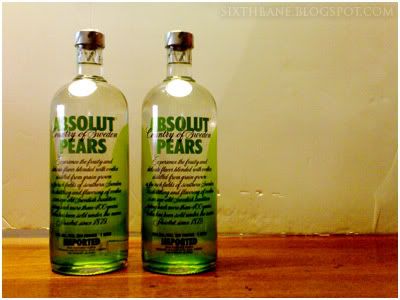 Two's just fine but THREE's ecstatic!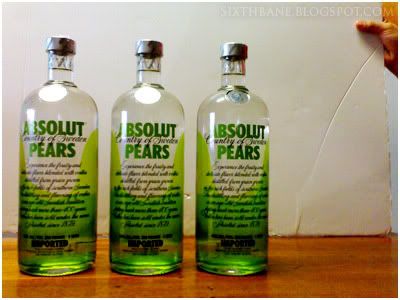 And FOUR is a Winner!!! woohoo!!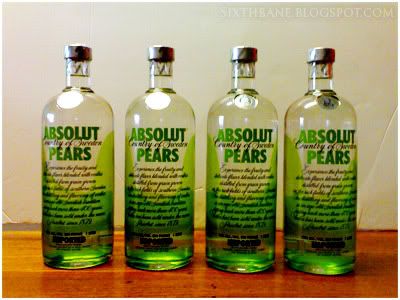 Im so very happy that I received them! Thanks SW for delivering to me though you had just alighted! And thanks bleeding beauty for helping me look for them even when you were unwell..
Well, I love it when I mix it with green tea. It just Tastes DIVINE. Like im in Heaven! :D Which is what I am gonna do once I post this entry. And yep, all these 4 bottles are for Me:):) I just hope I don't polish them off so fast! :p
YOU MUST TRY IT!
The flavour is unbeatable!
Labels: absolut disco, absolut pear, alcohol, drinking, liquor
i bleed; therefore i am {01:33}