♥
Monday, May 12, 2008
Some people have more shoes than their two feet can wear
Some people have more jewellery and gold that you think they own a personal gold mine
Some people have more clothes that can last them for several lifetimes on end
Some people have more makeup in their whole possession that a whole circus crew can use
Some people have more skincare products that makes you wonder how many faces does a person have
And...
Some people have more bags than they can carry on their shoulders and arms,
especially me :)
I admit that I may not be good in fashion sense, I may not be an expert in makeup, I may not be that good in my selection of shoes BUT, at least I know I can be good at something,
BAGS
&
NARCISSISSM!
So yesterday, I dropped by the branded bag boutiques and it was hardcore eye candy! Wheee~ and I noticed that both Coach and LV boutiques restricted the number of shoppers entering so maybe there was some sales going on? Hmm..
Anyway, throughout the full 6hours in the entire mall, I think I missed out a few boutique on level 1! 6 hours going in and out of the shops still left me hyper at the end of the day.
So why was I still so
Happy
and
Hyper
even after I had to move through
crazy crowds
?
Because I finally had this!!! Ahh!! The long wait of 4 yrs had not been in vain!
Take 1 - i was too excited so I snapped it quickly
Take 2 - this looks like a light box eh?
Take 3 - and behold, Tiffany and Co. Heart Tag pendant! *smiles*
But the experience there left me turned off. The salesperson looked down on me when I Politely asked for the heart tag bead necklace as it wasn't shown on display but the fucked up bitch, kept pointing to the chained heart tag Chokers! WTF.
So I waited for like 20 min++ for her to finish attending to some customer who was taking quite a long time to decide. By then I was pretty pissed and feel like im going to be turned off any minute and just WALK OUT of the boutique.
Every SA were occupied with clients there. And bloody hell, the so called 'crowd' was only 8 people in the boutique!
So I thought over to myself:
I've been waiting for so many yrs and now Im IN the boutique so why the hell should I leave and wait for a few more yrs before embarking on buying it, when I could just SWALLOW MY PRIDE for a while and GET IT NOW?
So I restrained myself from exploding.
Finally, she was done with the customer and a guy CUT in front of me and asked her a few qns. Feeling pissed, I raised my voice in a Polite manner(not sure how you can imagine this) and asked for the necklace. Only then did she attend to me, in a most reluctant manner.
I pointed to the display and asked to take a look at it. I saw it and AB said that it was too small for me. Then I asked the SA if they have the bigger one with the bead necklace and she then took out from a box, unwrapped it and I held it in my hand.
What went on next was, I HAD TO TRY IT ON.
And once it went on, AB and O said that it looked good but it was too long(i had not yet twirled the chain a second time) so the SA helped me and once it was on me, it never came off!
I proceeded to make payment and as I was walking out of the boutique, O said: Gou Yan Kan Ren Di - which means Looking Down on People who look poor on the outside, who actually are potential customers bent on spending some $$$ in there.
AB and I laughed and then I was wearing it the whole time and it FELT REALLY GOOD. Now I know why people enjoy branded stuffs.. hahaha
Afterwards, headed down to a couple more places and had both lunch and dinner there :)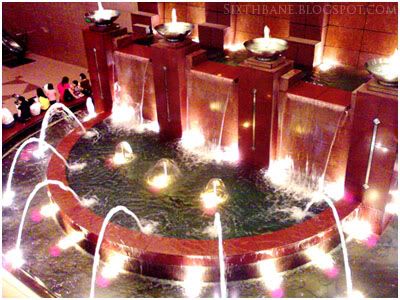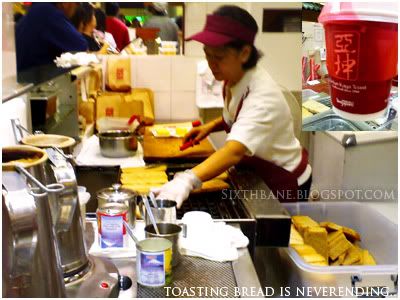 Had beef tomyam soup and oh my gosh, they put sooo many chilli padis inside! Had to fish them all out before I could drink the soup.. :/ overall, the beef tasted not bad but i can't say the same for the soup :s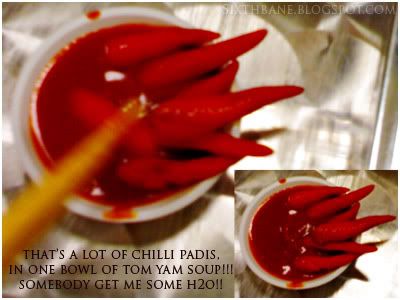 End of the day, spotted this red car hehe
When I got back, I had to take pictures with it but of course, I don't wana tarnish it or what so I put it back in the pouch and cam-whored with it.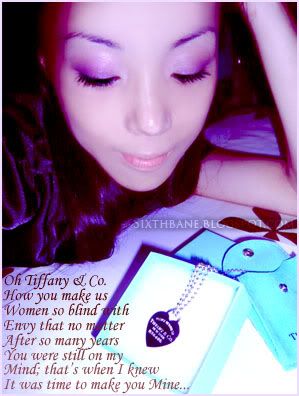 Many people spend the money they don't yet earn
Buy the things they can never afford
Because back then they could only watch from afar
And ne'er got the chance to call it their own

©Copyright 2008. Sixthbane.blogspot.com. All rights reserved.
Now that is so true... And its currently, my 'motto' in life. Hence, it makes me wanna work Even harder to attain my heart's desires~
Labels: branded boutiques, brands, happy, shopping
i bleed; therefore i am {10:15}