♥
Sunday, May 04, 2008
Receipts are handy for applying mascara on lashes!
I was rushing out of the house and silly me, I forgot to bring tissue packets! I did my makeup at home but was running late so I brought my Bourjois Mascara and eyelash curler with me.. I flagged for a cab and it turns out that the Cabbie also have no tissue! Argh!
So what was poor me to do? Time was running out and it certainly looks weird with all the pretty eyeshadow I colored my lids but without mascara on my lashes.. so I resorted to leftover Receipts in my bag: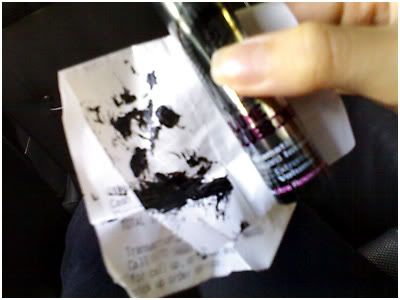 They are Really handy to have around! Esp if you have no tissue paper! What I normally do when I apply mascara on my lashes is, firstly, I will take out the mascara wand from the tube, then I lightly poke the tip of it onto tissue paper to remove the Heavy Excess. Then, I coat my mascara on my lashes bit by bit but I always try to use the area near the tip of the wand to apply. Then if not enough, I will put the wand back in the tube and rotate the wand in the tube ONCE then take it out of the tube and repeat the process of putting the excess onto tissue again and apply on lashes. That way, the mascara doesnt weigh down your dainty lashes too much and you have enough volume and coating to make it look prim and proper.
However, Please please please DO NOT EVER poke your mascara wand in the tube UP AND DOWN many times!! You are introducing more Air bubbles into your mascara tube which could end up drying up your mascara liquid on the inside and making it more thick and clumpier, like a thick gooey mess and not the smooth liquidy form(which is EASIER to apply on lashes)!
And also, if you intend to preheat your Waterproof mascara tube bottle with hair dryer, you will realise that one tube that could last you for 2 weeks, could end up lasting you for only 1 week and a half cos the insides have dried out. Why? Cos firstly, you ARE using Waterproof Mascara so, it is
Quick Drying
when you apply to ur lashes but when u
apply heat
, it dries up faster in the tube!..
So okay I used the receipt in place of tissue paper and not too bad la.. Lucky me.. And I alighted just in time!
Had dinner at subway but wasn't that hungry so I ordered 2 cookies and one coke. W was super hungry so she finished up her meal. And SY, she dun eat chocolate but she ended up ordering one set meail with chocolate cookies! In the end she packed the two cookies home, untouched. :p
Passed by this light box and thought this advertisement was pretty :)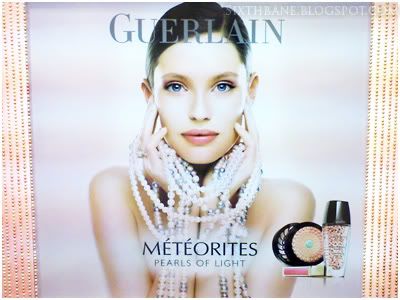 And Im so happy! I passed by many boutiques and I finally saw the item I've been longing to get for
4 friggin years++
! It still looks Gorgeous! But its not in Platinum Gold!!! Argh!!! *bangs head on the wall*
It is in Sterling Silver, for a price tag of more than $200++ ! :( I want to cry le.. I asked them if I should get that then they said its Really not worth paying such a high amount just to get it Not in Platinum Gold.. So they said it could stilll have tendency to rust and tarnish..
But I was wondering, if I wear it all the time and never take it off for rust and tarnish to set in, wouldn't that still make it look Fresh and Good? Though there may be scratches but it is still lovely! :) And ive been secretly eyeing that for damn long..
Am still contemplating if I should get that Myself, or ask people to combine $$$ to get it for me for my bday! *claps hands*
My bday is coming after SY and W.. Then by the time my bday come, people may have no more $$$ to chip in for that as my gift! hmpf......:( Although, I
dun mind
topping up the rest of the $$$, if it is still not enough to cover the cost price even after everyone chips in a bit of $..
Sigh oh sigh. So we visited the boutiques first and headed to other places for clothes. And while I was window shopping with them, it was like 9pm, And I suddenly felt the urge to Go back there to get it myself! Well, after seeing that, 2 hrs ago, it was Still on my mind 2hrs later!
Oh man but I asked W if the boutique has closed and she looked at her watch and she said they are closing at this time. .so we walked around somemore for clothes..
Half an hour passed. It was 930pm. Again, I asked her if I RUN there to get it, will it still be opened? And she told me no point doing that. She said it would be buying on impulse. She advised me to RECONSIDER it at home and think it over if its really worth it spending 200++ on a simple item that isn't platinum gold at all! :( So I listened to her and walked with her.
We were tired and thirsty. W wanted to head down to starbucks and I needed a place to sit down so we walked all over just to find a Crowded Starbucks with no Seats available! Fuck. Then we walked all over to this Tiny Cake cafe and it was 1010pm. The guy said they were closing at 1030pm. So nevermind, we ditched that place for Coffeebean.
Turns out, they also close at 1030pm. Wtf... And my peeptoeheels felt like razors digging into my feet.. So we settled on that place. Oh well. After that, we made our way to the taxi stand and shared a cab home. On the way, I was consulting W about the bday gift thingy and a couple of items I LOVED at the boutiques.... Even when W alighted, I was still pondering over what she said. And just nice, Sharon called me up and we talked about the matter too.. And yup she also advised me to not spend so much on one piece of metal.. *sobz*
Hmm.. Somehow, until now, its already 3am in the morning and I am still mulling over it! Can't seem to shake it off my mind.. I really really want it Very Badly... But just can't decide if it would be best as my bday gift or should i just get it for myself and keep my finances over Ultra tight control over the next few mths.. Somehow, it does feel good if you get to purchase something 'branded' with money that you made All on your own :) Because you get to understand how precious it would be.. I think i need to consider more. If by the time I wake up later and its still fixated on my mind, I think i will make actions to get myself.. :p we shall see.
Oh and guess what, a 'Visitor' came by like half an hour ago!! It was brown, sneaky, and never dies! It was a filthy brown Cockcroach! I was typing this entry and I turned my head to the shoes rack and spotted this creature, running around my slippers!!! Fuck! I almost ran to get help to exerminate it but its damn early in the morning....so its not good waking the whole house up just cos of one dingy little freak.
I got up, Calmly(thank god), ran to the kitchen, found the powerful cockroach spray and aimed it at the shoes rack. Cos, IT, ran underneath the rack! I sprayed once, Anticipating it to Escape outwards, But there was no movement. I sprayed a second time. And I waited.
After 3 seconds, this Roach was smart enough to Escape out the front door! Thank goodness for me! At least it knows that 'Visiting Hours' are OVER!!!! Sprayed a final 5 times at the bottom of the door to SHOO it far far away....
I hope that IT & frens don't visit me ever! This has been happening like twice this week! Grr..
Shall stop for now. Need to finish up my work.
Labels: beauty, branded boutiques, brands, mascara, shopping
i bleed; therefore i am {00:38}