♥
Thursday, May 01, 2008
Part 2 of Event
Warning: Image heavy!!! :)
The main boss told us to give away the leftover cones to the customers hee so we distributed tubes of cones to the people as there were like 3 giant boxes and 3 small boxes full of them... but the aunties were super Kiasu! They took like 6 to 7 tubes at one go!
SO GREEDY........
:(
We knocked off early that day as we finished our job and SW shook ny hand and said it was fun working with me, wahaha, and I did the same too :P well, its a great experience for me and it was indeed a pleasure to work with SW side by side. Hehe I guess we click off really well. :D
So after we distributed Everything to the people there, we went on our way.. We toured the halls 5 4 3 2 and 1 :P
While walking, I noticed this 'thing'. It is just basically some kind of fabric wrapped around a colored light, with air blowing into it. So it looks kinda like a Flacid Flame - if there is even such a thing. :P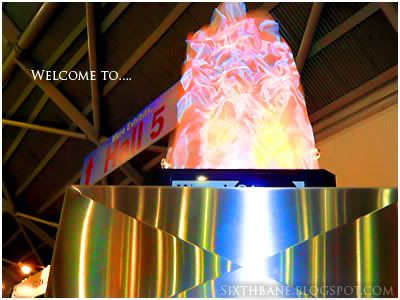 At the next turning, I spotted this!! And SW wanted to buy one of the cakes there since it was the last day however, the person in charge mentioned that the carebear cakes and other cakes are no longer that fresh as they've been left at the display for 3days plus! So after the exhibition, they will have to destroy all of their cakes!!! *sobz*
It looks so pretty but it is Hardly Edible, at this point in time..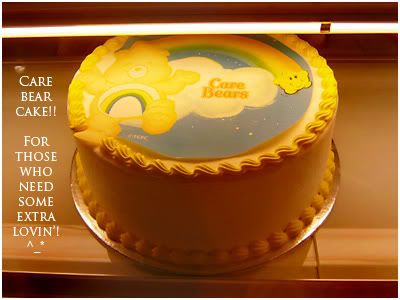 Oh man, these cupcakes are to die for! But I never got a chance to get it! :( I like the carebear figurines though hehe
Oh yea, they have Barney and Friends there too! And i don't get why the yellow dinosaur is called BJ. All along when I first heard of his name, I was thinking, That yellow dinosaur must be GAY. Why? Cos BJ sounds like: BLOWJOB. Eh I don't know about you guys but to this day, i still feel that his name is Blowjob a.k.a. BJ. hahaha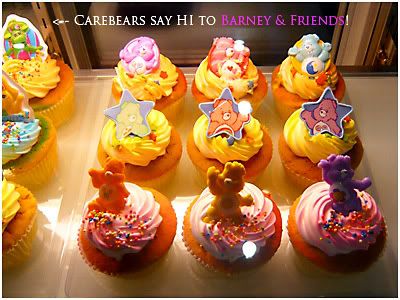 Expensive cakes but you think they were here to promote the freezer machine, or the cakes? Hmm...
SW took up a piece of bread from the plates and fed some to me. Yes, she fed to me and I felt like ppl there must be thinking 'Holy shit, are they lesbians or something'? Haha but hey, she's straight alright :) Anyhow, I didn't like the idea of grabbing bread like that esp since they grow stale quite fast and though the aroma of fresh bread baking in the oven did made me tummy rumble, nah, I'll still pass that up. :p There's more to walk and see and grab to eat! hehe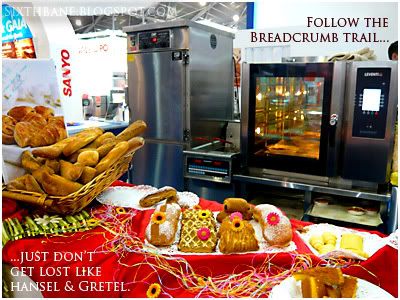 Took a picture of this god knows what machine.. Looks like a Sewing machine, or Meat Grinder, or parts of a bicycle! You know, the part where you pedal and gearchains go zzziiinggg? Ya, that one. Do you see the resemblance?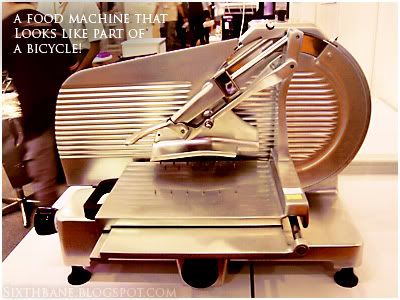 There were Trucks and Vans parked right inside the hall hehe and I thought this was cute, like a Stairway to heaven but instead, its a stairway to nowhere!~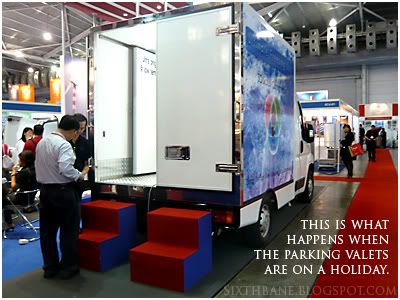 Doesn't this let you reminisce the days of Kindergarten school? Where everything was so darn colorful?
I think this tower is Really a cake thats layered on top of another to create this long structure.. Surprisingly, there were no one patronising this booth -_- i wonder why.. SW wanted to try the muffins there but i persuaded her that they were unhygienic and dirty as god knows how long have they been stuck there? Besides, it was the Last day of the event somemore so who would actually bother making fresh muffins right?
I wonder how long they took to create this. Seems as though they had a mini 'blowtorch' to burn the edges so it gives depth to the 'carvings'.. Suddenly, the prints on the tower give me the impression of Louis Vuitton logos haha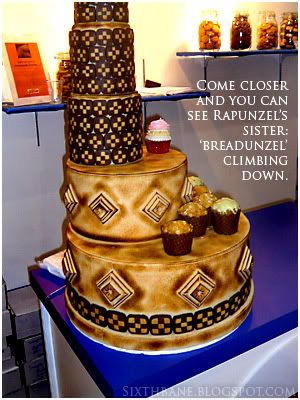 Meat lovers, feast yourselves!
Oops, I meant to say, feast your eyes on these! Since its really too bad that its just a picture. lol
Sweet treats galore! Am I getting you hungry yet??!?!
Green tea? Or pistachio flavour? haha that New gelato flavour(pistachio) is drilled hard into my head since it was the very Hotseller at our booth :)
Needless to say, it looks like the chef was trying too hard to be creative with the fruits and the white chocolate tentacles.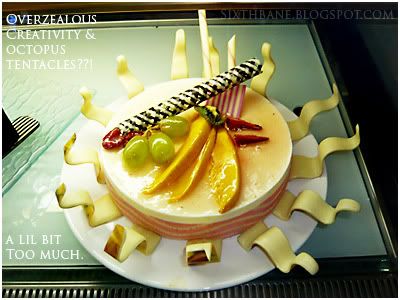 This one I don't mind. The food in the glass cup looks not bad and not to mention the giant cake and chocolate cones on the side.
Curly fries is out of season! Try curly white chocolate!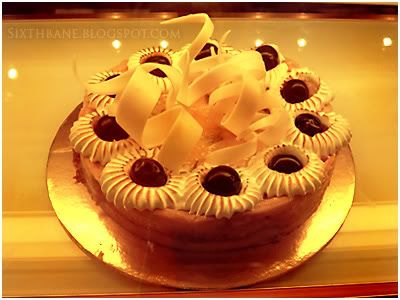 Behind this wall lies serious faces. I love the wall design though. Looks very sleek and gothic in a way? Like those wall chandeliers that are black and hangs from the ceiling.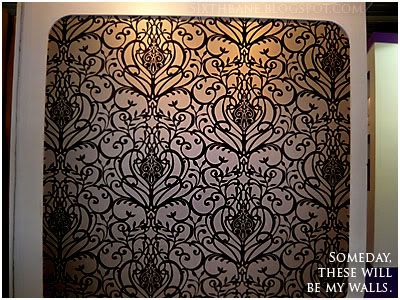 Pretty, complex, intricate. Just the kind that ive been looking for :)
Passed by this booth and tried to snap a picture and who knows, there were a few men, snapping pictures at me! I turned my head in their direction, and they quickly pointed their phone somewhere else. Creepy~ oh and the food inside this fridge isn't for the public.. Many people crowded around this booth but they weren't distributed any of these delicious looking sweet treats... :(
Dilmah! That advertisement on tv and i think the slogan goes like 'Trust Dilmah, try it'. lol but are they Better than Lipton tea..? >.< src="http://i302.photobucket.com/albums/nn113/sbne/stuff/eve/f10.jpg">
The name of the cake is:
Brown escargoes on a bald man's head.
Okay im kidding!! I don't know the name of the cake but it looks that way as I mentioned above. So now that I've said that, it also looks like an igloo too. haha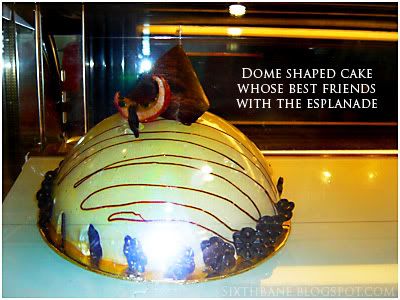 You can never have enough of chocolate.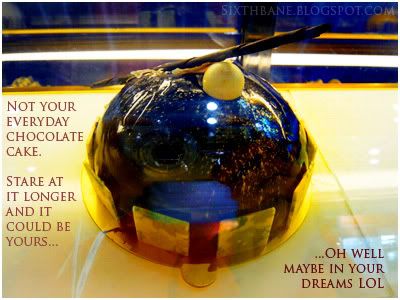 Went by this booth and the person there was quite protective. Cos the moment he saw me with my camera aiming at his booth, he stopped me. It wasn't until I said that I wanted to snap the Ginseng only, did he then give me the green light. These ginsengs look Fugly... Like wrinkled, shrivelled up Lady's Fingers... -.-'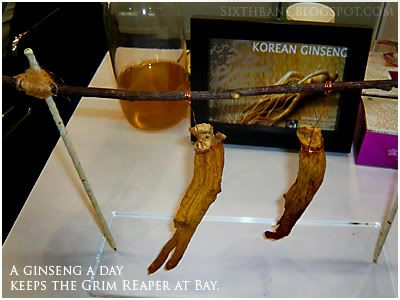 Oh whats this? A tent? Hehe
SW and I immediately went there and asked the kind lady if we could take pictures with it and she said okay! Yay! So we waited our turn then she helped us snap pictures. Luckily I asked her to take a second one because....
We were shot without any warning and SW! What are you looking at?? teehee you're supposed to look at the camera haha anyhow, while we were posing, suddenly more people came to this booth and took our their Digicam and take us. I think they thought we were promoters for the furniture? But it was funny! Like, the people before us, not much people gathered. But the moment me and SW sat down, suddenly the girls and guys came to take our pictures. So funny!
So here's Take 2 and yep, we both look much better :) At least we were facing the camera at the same time :P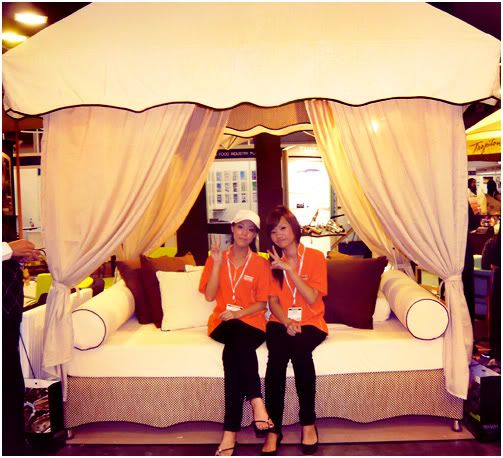 Then we walked and walked and we chanced upon the liquor section! I tell you, there were a lot of corporate people there, trying out the liquors and alcohol and I was so bold as to ask one of the mini alcohol booth if I could take one bottle home as it was the last day. And the bottle inside was only 1/4 filled with liquid but you know what? The person said it was too early to give away.. dots...so stingy man..
Now comes the crazy part. We were entering the 'furniture' area in the event hall so I joked with her whenever we came by a household setting and I pretended that that was my place. So I said Welcome to my living room, that's my kitchen, how you like my bar corner with a personal bartender etc. All the silly stuffs la haha so if you cannot take my lame jokes then you may wana scroll down further to other stuffs.
Introducing, my 'House'...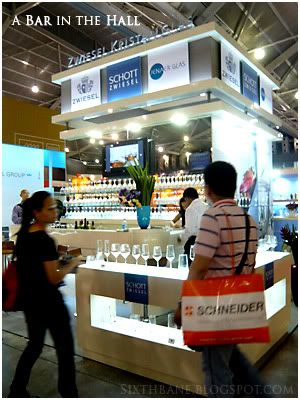 So many wine glasses there, I felt like swiping one from the display for myself haha
This is my kitchen. Wana help me out with the ingredients? :P
My dining table. Like my dining set? They come only at a fine price.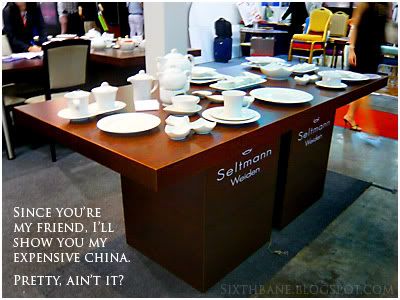 Hey that's my bedroom. :) Cozy little corner ain't it? :p at least there's a bed, thats all that matters. Ready for a sleepover tonight? :D hehe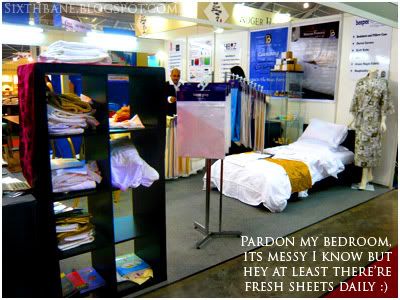 Alright and there you have it. I've shown you my entire 'house', what more do you want?!
OH I know! Of course, you want to see more pictures..right?
You Voyeurs!
*LOL*
More wine bottles and alcohol, all shelved up! I should have taken the chance to get one there when I could.. But i was... lazy. :x
Hey hey, Orange car that matches our Orange uniform! Okay and this was Take 1 and as you can see, we look awkward. Why? Blame it on the photographer. She kept saying that the car wouldn't be in the picture but really now, who the hell cares so much about the car? It is US that matters in the picture!! Grrr... If it were a sports car, now, thats a whole different issue.. but this, its just a Pizza delivery van... And after all, I ADJUSTED the height and angle of the camera and showed her the button to snap us but she obviously wasn't listening and shifted the camera and only pressed the shutter button after like 3min of us standing there, with our makeup bleeding into our wrinkled smiles that we had to hold for so long. Damn it.
And then one customer came up to us to ask about the orange car. hohoho, we know nothing about it! We ain't in charge of this orange car! haha could tell that he was embarassed so he didn't pursue further. But the car was orange and so was us! Jailbirds stays as jailbirds together in the land of the Orange! And I wonder why a pizza car has to stand out and be orange in color haha. Do you think people will actually buy this car to deliver their food?
Take 1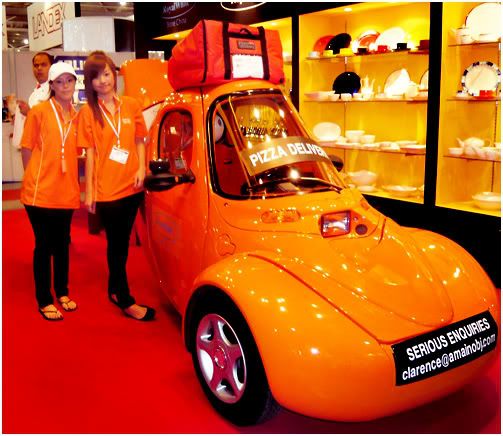 Take 2.
So much better.
If only people listened to instructions, we wouldnt be there for like 10 min standing there under the beaming hot lights just to take ONE good picture.. Is it that hard to listen and just Point and Shoot?? Doottttssss....
Hiro does food too?! Haha this Hiro isnt the Hiro Nakamura on Heroes. But still, it was a pleasant surprise to see this here! Wahaha~ So, I added my own story: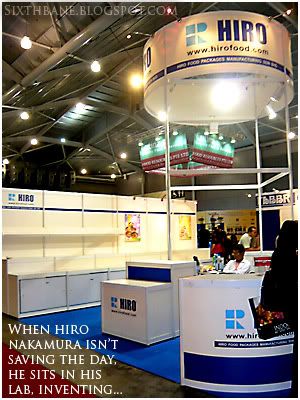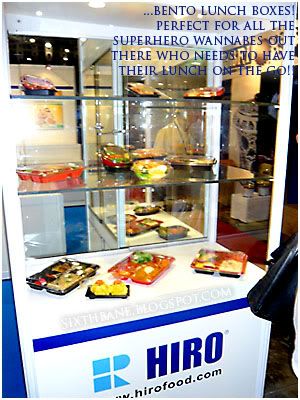 Woo, this one definitely reminds me of those mooncake boxes and lanterns hehe
I know who is gonna be so happy to see this! PAT!!! lol I certainly hoped she made it to this event cos it would be such a pity if she didn't! There were some awesome packagings on products, how their layout was like etc. It was like packaging design and layout design and advertising there! :)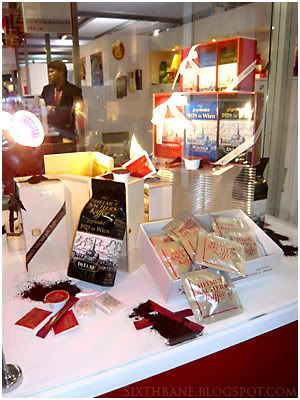 We have come to Hall 1. It was a very tiring long walk but we still managed to shuffle our feet and get to see what was at the very end.
Hahaha the lion was cute and it reminded me of Aslan the lion in The Chronicles of Narnia. :p I loved reading the books AND watching the movie *winks*
SW helped me with this picture :) Turned out not too bad :D I had to switch to slippers halfway walking through the halls cos I felt like the ballerina flats were preventing my back ankle bone to move freely. You know the part where the back of the shoe rubs the skin at? It would make SW's feet end up in blister. But for me, it didn't 'break' my skin jus that it seemed to impede any 'bone' movement and bruised it there.. Flip flops are so much 'comfier' :)
By the end of hall one, some booths had already been left empty and I felt a little sad cos even though it was a few days at work, I just hate to see things end..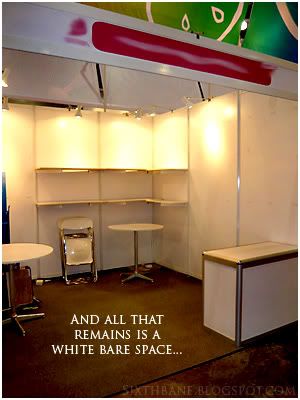 Before I left the place, I took one last picture in the toilet. :) And I know for sure all these pictures we've taken so far, are gonna bring back good memories..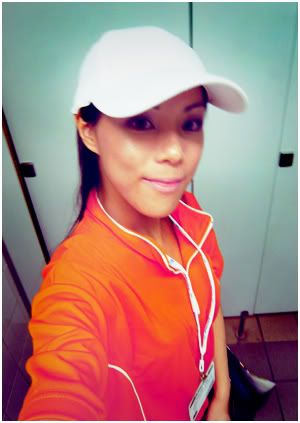 P.S. I never thought I would look good in caps esp since my head is already so small! But after this experience, im going to go get some nice ones when I can find them. :P And i've been up ALL night and not slept a wink in the last 24 hrs.. Whats worse is that I have to get up after 2hrs of sleep later on.. :(
Well then,
Good night to Me & Good morning to You
******Edited******
I think I exceeded the maximum bandwidth for my blog or something so I've decided to keep only 6 posts per page.. When this image heavy post gets pushed back down, I might resume back to the original number of posts per page.
What happened was, as you know, in my entire comp, I only have 5GB left of space for it to run hence image heavy blogs like Xiaxue's one, her page just wouldn't load up no matter how many times I opened it in a new window or cleared my cache.
And after I published this post earlier, with quite a number of posts on my page, my blog main entry just couldn't load up! Grrr... only the sidebar stuff were showing... :( However, when I test tried it on a different computer, everything was okay! So I guess that people who have not enough GB space in their computer won't be allowed to view my blog entries properly hence, it would be best for now to reduce the entries to 6. I tried 7 posts per page but it couldn't work. So, I guess
6 is a lucky number
, as with my blog url:
sixth
bane.blogspot.com :D hehehe
Labels: events, fha, food hotel asia, fun, image heavy
i bleed; therefore i am {04:43}