♥
Sunday, May 25, 2008
If ya don't like me, you can just walk away. Im not asking you to stay but if you're interested in what happened, feel free to read on.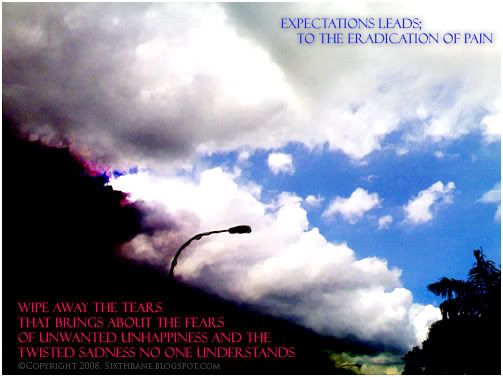 I am in a Very Very Very
bad mood
now. I don't like to be angry/pissed off but THESE people made me have no choice but to bring the
ugly
and
bitchy
side of me out.
I don't even know if I should blog about what happened the whole day today but I guess I'll have to take my chances. After all, This is My Blog.
It was supposed to be a very happy day today but
Everyone
ruined it. I have just ended a phase in life and Everyone is
EXPECTING
me to be serious and
FIND A JOB.
Oh please, 2, 3, 4, 5 have your own perceptions on life but I am very obstinate in my thinking. What I set out to do, I will finish it and no means of wasting your saliva is gonna make me
Change My Mind
.
2 is very adventurous and an all-rounder. Blood type is B by the way, same like me. Cool. Maybe thats why I find it easier to speak my mind since even if I Do offend 2, 2 will treat me as an adult and won't talk about me being rude or anything. However, although 2 has given me lotsa ideas and thinks she knows everything, she does not know me one bit. In my eyes, Multimedia is the same as Art (Design) because it DABBLES with the Creative aspect.
3, is a Christian. THANK GOD 3 didn't speak much to me today.
*Hallelujah*
because whatever comes out of 3's mouth is
"Why don't you accept God/Jesus too? Why don't you embark on a journey as a Christian? Would you like to come to the Church and hear the Sermons(i think thats spelled like that) from the priest....etc".
And then there was this conversation during the Tomb sweeping day whereby 3 asked me
Where I would go to if I Die.
And 3 went on to say something like
if I don't accept Jesus in my life, I won't be able to go to Heaven.
I replied her that
it doesn't matter where I go to when I die. After all, We all Die Someday.
But what I was clearly thinking in my mind was, if the need arises, I can Always convert to christianity when I die, by my 'future' children or kin if they want me to convert. (After all, if Im dead, I can't say NO right...cos we won't be able to communicate)
As of now, Im
tired
of people coming up to me and telling me to join these Religious Righteous "Cliques". I AM
NOT INTERESTED
IN
CHRISTIANITY
, AT ALL. PLEASE
SAVE YOUR BREATH AND PERSUADE
SOME OTHER PEOPLE WHO HAVE THEIR FAITH WAVERING - THEY ARE MUCH EASIER TO CONFORM TO YOUR PREACHING.
I AM DOING JUST FINE WITHOUT CHRISTIANITY THANK YOU.
I TELL YOU, THE NEXT PERSON WHO ASKS ME/TALKS TO ME ABOUT
CHRISTIANITY
,
I MIGHT JUST GIVE YOU A SLAP
.
REALLY.
I AM
NOT INTERESTED
IN IT. (how many times must i repeat myself...???!??!?!?!?) I AM
NOT TARGETTING

CHRISTIANS

ONLY
BUT IT SO HAPPENS THAT I HAVE HAD NOT ANY PROBLEMS WITH
TAOISM/BUDDHISM
SO FAR AS
NO ONE FROM THAT GROUP HAS BOTHERED ME
AS MUCH AS YET.
I UNDERSTAND THAT YOU ALL ARE TAKING IN CONSIDERATION TO BETTER YOUR OWN GOOD AND RAISE A FEW STARS IN JESUS' EYES HENCE YOU ARE TRYING TO PULL AS MANY PEOPLE IN TO CONFORM TO CHRISTIANITY BUT HEY, WOULDN'T HE WANT YOU TO LET PEOPLE
LIVE THE WAY THEY ARE
WITHOUT BEING 'FORCED/COERCED' TO HIS RELIGION OUT OF
THEIR OWN FREE WILL
? YOU THINK ABOUT IT.
Im not done with this entry yet.
There is more.
If you can take it, read on. If it
pisses off
your glory asses, please, feel free to
LEAVE.
You are
Not Obliged
to Stay or
Make a Mountain out of a MOLEhill
. ~Wham Bam Thank You Ma'am.~
4, I am so sick and tired of hearing your voice. You think you know the world and more likely, you think you know me but you have
Absolutely No Idea
. Sleep may be crucial but
I dread
argueing with everyone on this point. You think I want to wear a cap all the time? You think I want to sleep late? You think I don't want my health back on track? Goodness,
you don't even know me from the inside

out
.
And after that
BIG
conversation, you come look at me in
disdain.
I feel the relationship just gotten worse.
But I was born a
Rebel
, I was born
to not Conform
to others' mindsets. I was born,
supposedly
to be
FREE
and to
lead a carefree life
but no. These are the only mindsets that're
jaded
in me. Oh and did I mention that Im
pretty Stubborn
by nature too? I am a
Fire Rabbit
, and a
Fire Sagittarius
. Now, how can you expect me to be so locked up like a little
yellow canary
in a cage? Its true that I was Very locked up in the past, like a country bumpkin when I see the world and its wonderous ways and
HOW I DREAD THAT.
Sadly, its beginning to happen all over again, right here, right now.
5, is Very Passive. From the way 5 speaks, I can tell that even if she's very
dominating
at work and really
rose to the top at
work; it was because of tolerance and endurance over her job that
she hated
but
GREW
to love it. Need I say more? Its like someone
FORCED
to be put in a
Jail cell
(for life, maybe) and
Grew
to UNWILLINGLY LOVE IT. I feel slightly sad for her and it IS definitely right of her to say to not depend on her spouse. Why? Because from what I see, 5 would slog day and night for her husband who
DOESN'T
even appreciate the least bit of whatever 5 does for the family, the house, and the meals she painstakingly prepare for her children, including her spouse. What i see, is her spouse would 'play' all day and night and does not even have a fixed job of equal standard to his wife. So where does the role of the man as the
Main Breadwinner
in the family come in? Her spouse
doesn't even appreciate
what she does - now why would I say that? The last time, 5 tried her hand at making muffins BUT, her husband, did not even take a
SINGLE WHIFF
, let alone a
SINGLE bite
from 5's hardwork muffins
she made with care!
How can he do that?! That immediately shocked me and registered deeply in my head. If I were him, I would at least take a bite, if not, at least
HOLD the muffin
in my hand, as a sign of
APPRECIATION to
my wife
(if I were 5's spouse). But all her husband did, was just
leave it cold on the plate
,
untouched; untasted.
Did not even GIVE FACE to 5.
Sorry C, Sorry A
, for saying all these but please understand, these are just words of anger.
I NEED TO WRITE THEM OFF MY MIND.

As for 6, she was the most understanding and easiest to relate to. I felt her advices were
more encouraging
and the age gap wasn't that far apart compared to 2 3 4 5. Still, 6 was quite concerned over me of my health and
pretty supportive
of what I wanted to set out to be.
As for
C
and
A
, yes, it would be hard to keep us apart. And I thank you for
lending me your ears
to listen
and
your hearts to feel my woes
and
eyes to see what is really going on
and
your basic instincts to guess a little bit of what is actually happening
.
After that
BAD
and
ULTRA INTENSE
conversation, everyone seems to be looking at me with
Great Disdain.
Really now, I can't help it and I can't expect to make everyone happy for the sake of keeping everyone together.
Life is not about pleasing others for the illusion that they can be there for you when you need them, or for the illusion that you think that they could make your life freaking easier and simpler. It doesn't work like that.
This is a
Bitch eat Bitch world.
Survival of the Fittest.

Either you be
passive
and give way and please others without realising what is the least amount of Good you have done for YOURSELF, or, you be
strong
and live life like you
Really Deserve
it
and
live it like you mean it
, and
do things for Yourself
, to
Improve

Yourself
better, and be the
Bitch
who eats the other Bitch first.
It is
6:02pm
now. Been typing for an hour or so. I guess my anger is appeased now. Not in the mood for anything else but to rest in bed. I need to
Sleep Off
my Anger. I haven't felt like this/the need to sleep my anger off, in a Very Long While now..
I will update the food pictures up later. I am too 'firey' to do anything now.
Labels: anger, bitchy, christianity, disdain, expectations, fire, job, phase, pissed, religion, sleep
i bleed; therefore i am {16:55}