♥
Monday, April 07, 2008
Ate at some restaurant a week ago and it was GREAT!
Okay here's what happened; i wanted to go have some xiaolongbao, after watching the 9pm ch8 chinese show about poor people chasing after an ancient water vat, and there was a scene where the little boy said "WO YAO SHANGHAI XIAOLONGBAO!!.. haha so that was what made me move my ass all the way there, just to have it. :p
Well, the food there was not too bad and there were a few where i could give my thumbs up and legs up, all in favour of the super delicious dishes they had to offer! Besides, the ambience was very very nice, not your typical asian restaurant decor, i feel. Cos there were like some serious beamlights, beaming at you while you eat and when you look up, you can see your reflection on the wall. I guess it was their way of making the small unit look more spacious inside cos, the restaurant was pretty small on the outside haha
To start off with, they served green vege(i hate this kind of vege, yuck) with red capsicum and i can't remember if it was slightly spicy or not. But one thing for sure, it tasted pretty SOUR. On the receipt, they named it as PICKLES : $4 (that sour dish costed that much, it could have earned me a good full meal with that kind of price at mcdonalds:p)
I was famished! So I tried a couple of it and it left me wondering: Could it be that these veges were starting to spoil, thats why it tasted sour, something like Sour Milk? Could the flavour be there to cover up the taste of some of the veges that had gone bad? But well, it didn't give me the runs so hey, its one of my overzealous thoughts once again. Lol.
Oh and, they had this fragrant cup of tea, thats filled with flowers, red dates, longan and some medicinal herbs inside and call me silly but i had never seen such a cup of flowery tea i restaurants before! Its called the Eight Treasures Tea 0.o haha like back to the ancient chinese era :p oh and its $3 per cup but there's free flow of hot water, so not too bad! :)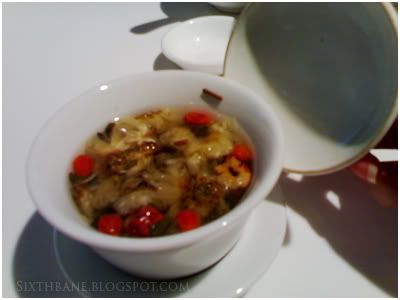 Usually, most restaurants would serve their tea and when poured out into a teacup, it would sometimes be accompanied with tea leaves, and taste bland! OR, it tastes of sweet chrysanthemum but without its flowers. For the flowery cup i had at this restaurant, it didn't taste that sweet nor bland and it was a pretty sight to see too! You know, when you wana sip your tea, what gets your fullest attention are the flowers in it and the fragrance and you feel as though you're in a spa.. wheee~
Next came the Xiaolongbaos!!! YAY~ We ordered 4 plates of these! And it costed us $4 per plate heheee(eh, pardon the ugliness, it was my cam's fault, out of focus haha cos i just wana eat it!)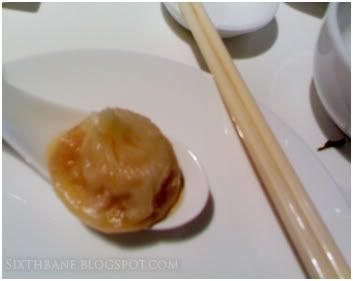 It was tooooo delicious to resist! Esp when the hot soup had to be 'sucked' up from the ultra thin skin but.. the skin broke easily! :( that was a bummer. And well, all of us agree that the Chef had no skill in making it cos when we tried to lift it off the steam crate, they were already broken :x Oh and one more thing, it Requires SKILL to even eat it.. I burnt my lips for a second there cos i was too Greedy at wanting to suck up the soup from the moment i scooped it out :p overall, it was Really yummy :D
As for this dish, it was filled with cabbage and skinny white mushrooms! Not only that, there was fried fish in there but of cos, it turned soggy in the soup.
I don't understand why ppl like their Crispy Fried Fish turning SOGGY in a bowl of soup. Sigh. Anyway, the soup was not bad, very salty but nice haha but the fish, must be careful when eating it cos its bloody filled with BONES. Argh. And one of the bones Jammed up into my gums while eating the fish.. Owww... And i was already very careful, biting bit by bit and i could actually have a bone pierce through my gums like that. :/ Overall, its not bad a dish :) certainly goes well with a bowl of rice ;)
Now, Meet CRABMEAT BEANCURD!!!! WAH WAH WAH!! IT IS definitely worth the price of $16!! Well, the food lies in a Crab shaped claypot! If the lid was on, i would have snapped a pic of it cos it looked so CUTE hehe like a orange crab on the dining table :P but too bad argh the waiter took it away right before I could snap a pic of it! :/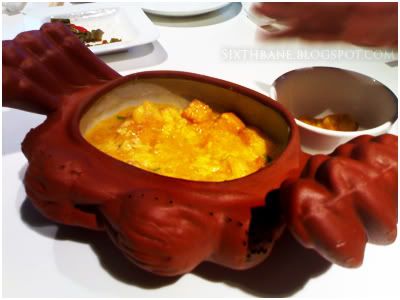 This crabmeat beancurd is FULL of eggy goodness and beancurd and the moment you put it in your mouth, it feels like its BURSTING with flavour! It literally MELTS in your mouth i tell ya! You know those exaggerated anime cartoons about cooking competitions and such? Where they put some food in their mouth and then show it bursting with color and fireworks? Well, that was what happened to me when i tasted this dish :D:D:D haha other than Sharks Fin Soup, which is No. 1 on my list, this dish is No.2 for me!! I felt as though this dish could replace my love for sharks fin soup, if ever there were no more sharks fins in the world (they may go extinct sooner or later), i may consider this crabmeat beancurd as my substitute for that! >.<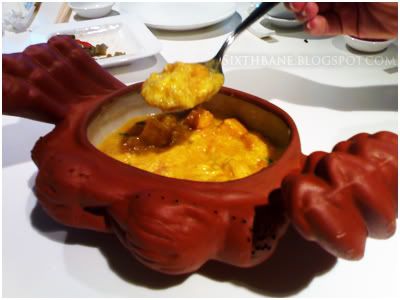 Of course, when it comes to the end of this dish, i was the one who scooped it down till there was no more left! Muahahaha its Addictive i tell ya *_*
The last dish was guotie, which tasted okay..nothing spectacular BUT one thing i hav to comment on is, its Presentation. The guotie was lying down and from one end, it was showing its pure innocent look: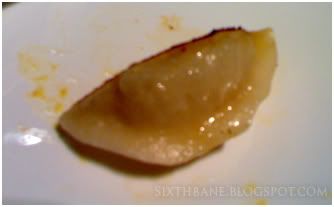 And at the opposite end, it was showing its 'burnt/charred rear' to the people at the other end of the table: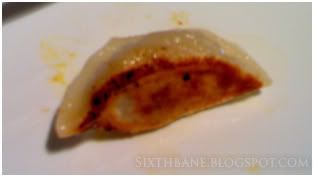 So then i thought, why not place it upright? Isn't it more appealing and more presentable? And it won't be so 'ugly' when its being viewed across all sides of the table..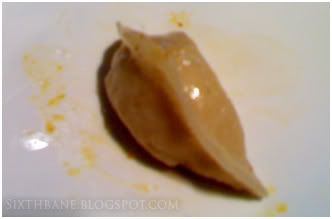 i wonder what were the chefs thinking man.. to actually present their guotie like that. I mean, its OKAY if its just being served in a food court/small eatery (eg. yoshinoya) cos when you eat, the front presentation is more impt and who cares about the ugly side at the other end of the food? But then, this is a restaurant..so how come the presentation of the food looks like that..esp when the table is ROUND and people can view the guotie from different perspectives/angles...
Finally, dessert came!!!!
Okay make a guess now, which do you think was mine?
Lol of course the BLACK one is mine, for my black little heart. *winks*
This dish is called Chilled Herbal Jelly and it tasted not bad BUT i don't get why they put these tiny flowers on top of the black jelly.. and for your info, it tasted Bitter...but the black jelly was good :D
As for the white colored one, it was Almond cream with snow fungus. Its served warm, and very sweet & fragrant too. You could taste all the almonds in it. How do i know? Cos i managed to swipe some for myself! *haha* and having this, kinda made me regret eating the cold black jelly..cos it didn't taste as nice as the white one :p
Haha either way, i had a very enjoyable time at the restaurant! But was kinda shy there.. cos i wanted to take pics of the place BUT i didn't dare cos the waiters, and all were like looking at my table the whole while.. so paiseh..
Alright, im going off to bed now! Its 7am, been typing for a while now.. I need my forty winks.. ~ _ ~
i bleed; therefore i am {04:33}